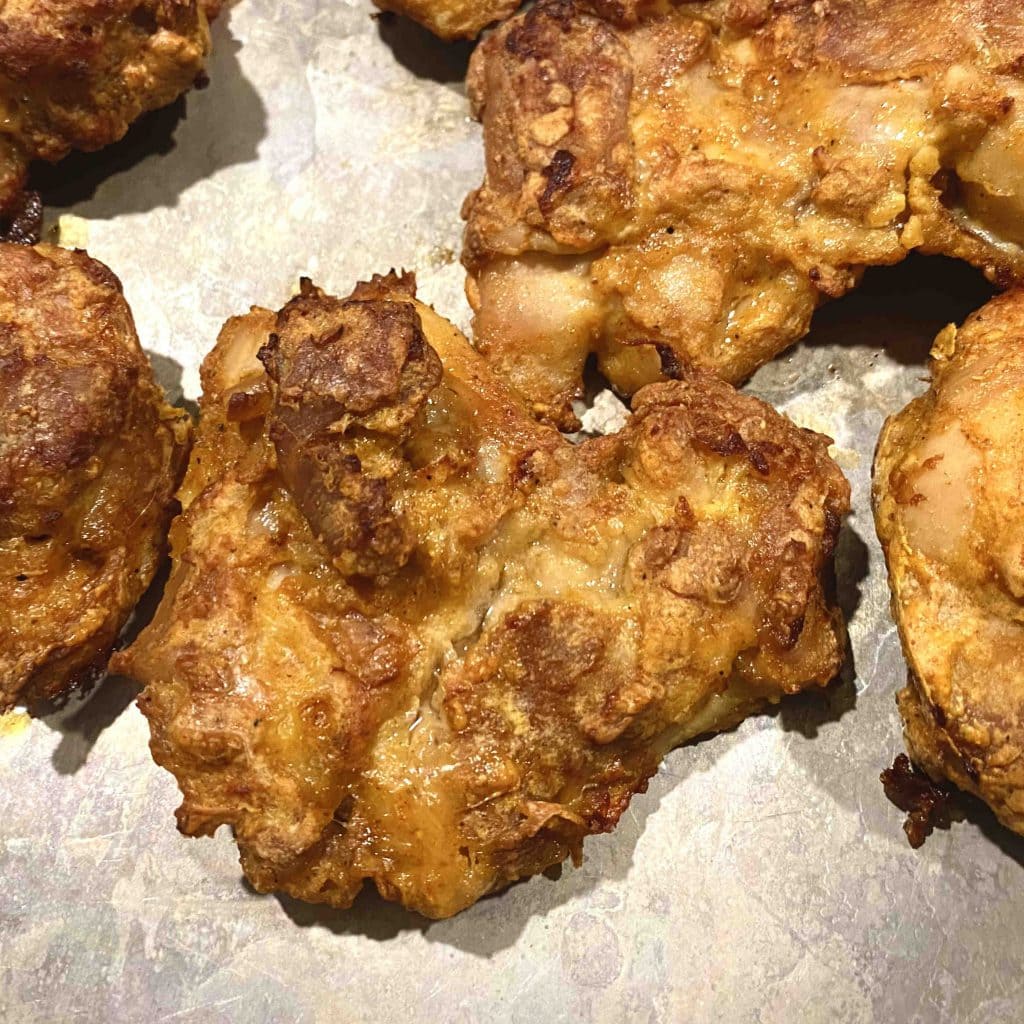 Welcome back to the #3 post of our Bargain Cooking series. Today, I would like to share with you a delicious chicken thigh recipe.
We frequently buy chicken thighs since they're one of the cheaper cuts of meat, priced at only $1.99 per pound. This makes our dinners super affordable.
This fried chicken is lightly coated, making it crispy outside and juicy inside. Instead of deep frying, we are using the air fryer method. With only a little bit of oil and the magic of the air fryer, you can achieve the same crispy texture without the extra grease. Less oil and less guilt!
But most importantly, it tastes as good as regular fried chicken! Hubby even said that these are the best chicken thighs he has ever had. Trust me, once you've tasted these crispy and juicy chicken thighs, you'll never want to go back to plain old fried chicken again.
---
---
Note:
In the recipe, we give you an inspirational list of what you can add to marinate the chicken. But you are free to customize it with the seasonings you like, as long as you make sure the salt amount is in control. The quantity of other seasonings can be freely adjusted or substituted with others.
Cracking an egg directly onto the chicken is a lazy way compared to letting the chicken go through an egg wash. This method saves one washing bowl!
Even with a large air fryer, fitting in many thighs can be crowded. We found out that even if they overlap a little bit, it will still be okay.
If you want to make it a full meal, you can pair it with some roasted vegetables or a salad. This recipe is perfect for a weeknight dinner or a quick lunch. It's easy, affordable, and most importantly, delicious. Give it a try and let us know what you think!
---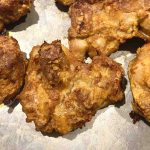 Print Recipe
Crispy Air Fryer Chicken Thighs
Enjoy a healthier twist on classic fried chicken with this crispy and juicy air-fried chicken thigh recipe. Give it a try and discover why it's a crowd-pleaser!
Ingredients
6

chicken thighs

avocado oil spray
Chicken Marinade
1.5

tsp

salt

1

tbsp

paprika

1

tbsp

onion powder

½

tbsp

garlic powder

1

tbsp

black pepper
Instructions
In a bowl, add the chicken thighs and the marinade ingredients. Mix well and let the chicken marinate for at least 2 hours, ideally overnight.

Preheat the air fryer to 375ºF.

Crack and beat a whole egg in a clean bowl, then add it to the chicken. Mix well. Alternatively(the lazy way), crack the egg directly onto the chicken, wear a glove, and break up the yolk and the white, mixing them well with the chicken.

Spray the air fryer with oil. Prepare a plate with a cup of flour. Coat each chicken thigh with flour and place them in the air fryer. Spray another layer of oil. Close the lid and cook until the internal temperature reaches 165ºF (approximately 20 minutes for 2 pounds of chicken thighs). Flip the chicken once at the 15-minute mark. Enjoy!
Nutrition