Today we would like to share with you an easy way to cook shrimp scampi at home. With a few simple steps of preparation, this dish can easily be finished in 15 minutes!
Yum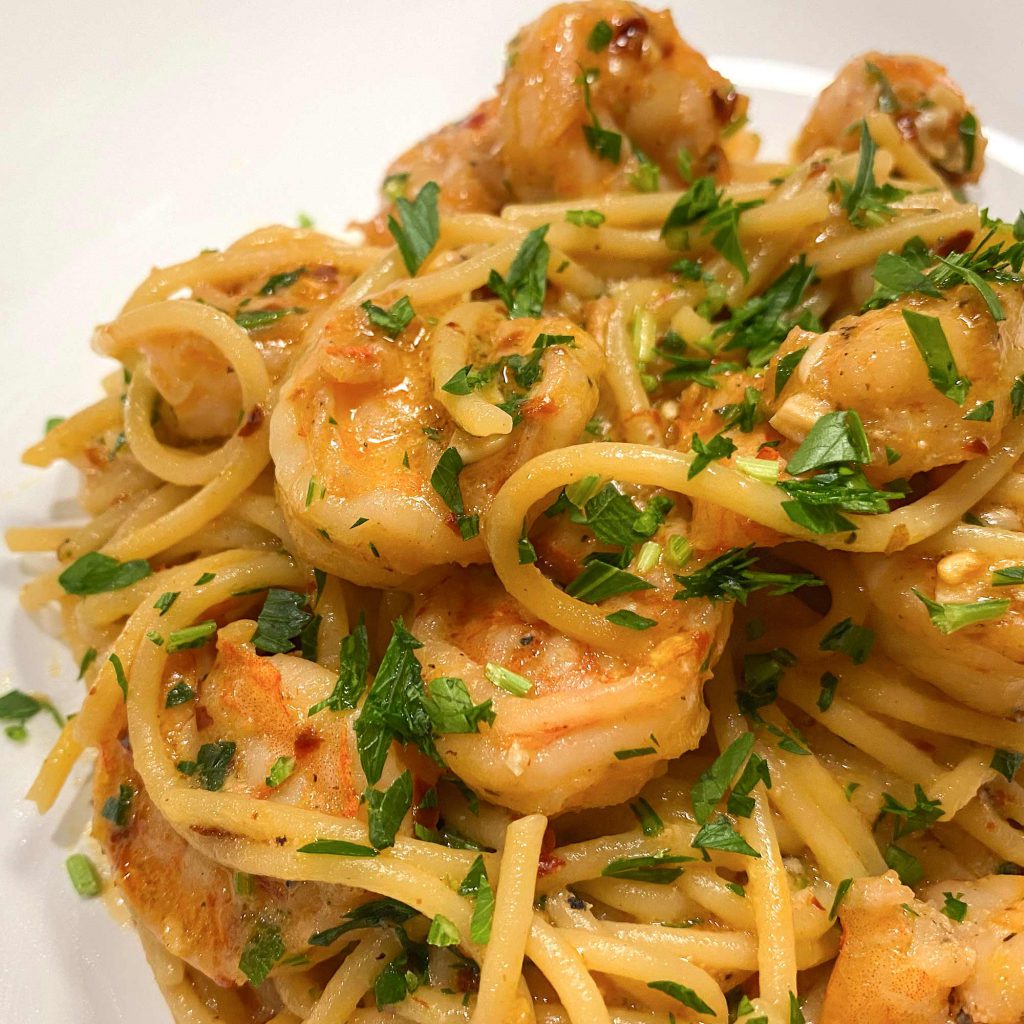 Since I start to have the idea to cook shrimp scampi at home, I've been searching online for all kinds of different ways to cook this dish. Finally, we came out with a winner recipe, which will taste like the one you get from an Italian restaurant.
---
---
---
Highly recommended to use large shrimp. We use 21-25 here, otherwise, they gonna become so small after cooking.
*21/25 means there should be from 21 to 25 shrimp per pound.
Print Recipe
Shrimp Scampi
A delicious pasta dish that can be easily done within 20 minutes
Ingredients
1

lb

shrimp

3

tbsp

butter

¼

cup

olive oil

6

cloves

garlic

1

cup

white wine

1

tbsp

red pepper flakes

parsley

lemon zest

juice from half of the lemon

black pepper

salt
Instructions
Start by boiling some water, while preparing other ingredients.

Peel and devein the shrimps and keep all of the shells. In a skillet, heat up ¼ cup of olive oil and the shrimp shells at medium heat. Cook until the shells become crispy. Add 1 cup of white wine, and let it simmer for 10 minutes.

Marinade the shrimp with salt and pepper, Chop some parsley and slice the garlic.

In the boiling water, add salt and pasta. Remove the shrimp shells from the stock. Add the shrimp to the stock and cook until 80%. Transfer the shrimp into a bowl, cover the lid and let it keep cooking with the remaining heat.

In the skillet, add 2 tbsp of olive oil, sautee the garlic slices, and 1 tsp of red pepper flakes over medium-low heat. Add 3 tbsp of butter, and cook until melted. Add the shrimp and the stock back to the pan, zest the lemon and add half of the lemon juice. Stir well.

Add the pasta back to the pan. Mix well with the sauce and let it reduce a little bit. Taste to see if it needs more salt; if it is too salty, bring in more pasta water. Lastly, turn off the heat, add parsley and mix well. Enjoy!
Nutrition