Today, we would like to show you how to make a quick stir fry with pork belly.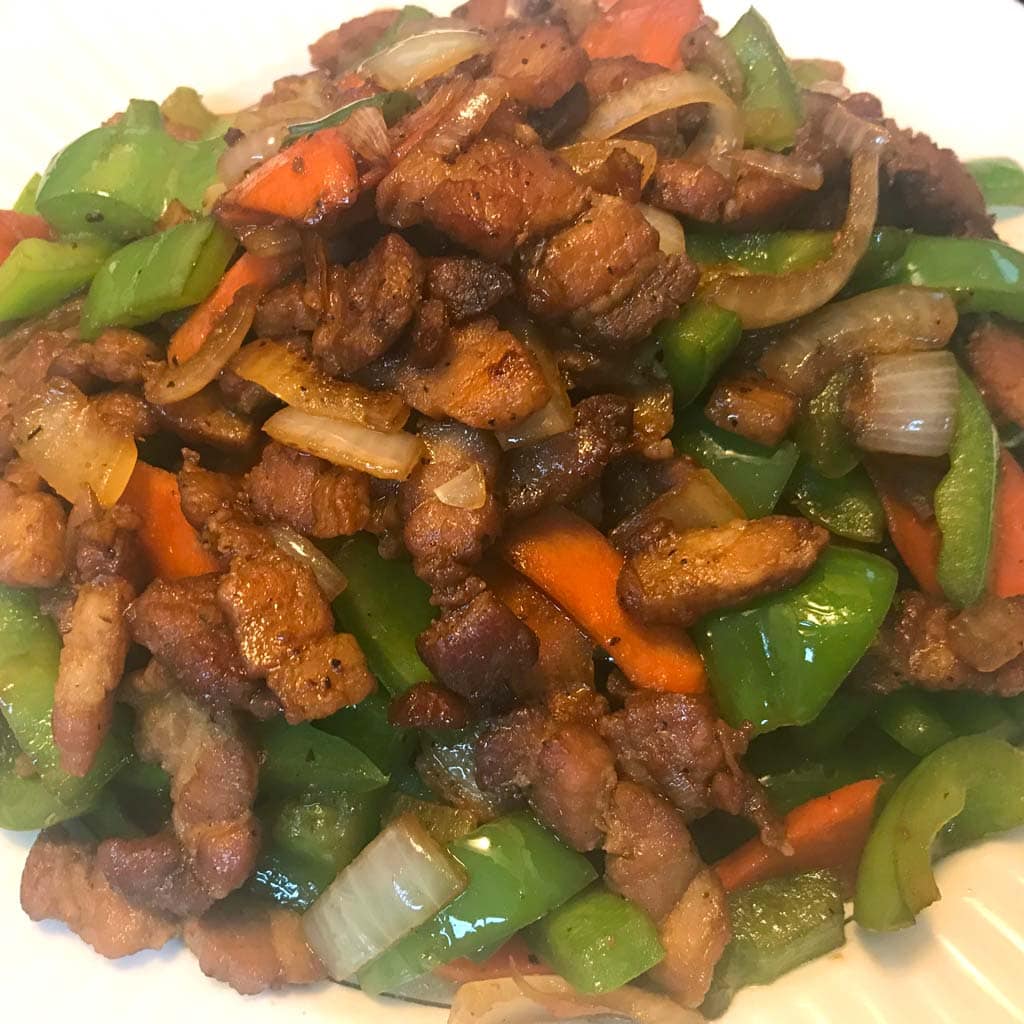 In comparison to other pork dishes, this recipe utilize a cut that is high in fat, which gives a rich flavor. It goes wonderfully with rice, oatmeal, or any food with a neutral taste profile.

The majority of the cooking time will be used in rendering out the fat. We will discard the pork lard from the pan so it won't be that oily. This will make the dish less oily and healthier. Aside from that, the stir-frying process is quite fast and simple, which makes it an ideal option for a well-balanced weeknight dinner.

In this dish, we used bell pepper, carrot, and onion, but you can substitute with any other vegetable you like instead.
We do have some recommendations here for other vegetable options:
cabbage
brussel sprout
eggplant
green beans
Because cooking these vegetables typically requires a lot of oil, they will work particularly well with the pork belly, which will give this dish a lighter taste and a good balance.
---
---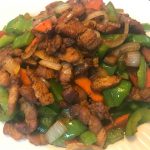 Print Recipe
Stir Fry Pork Belly
An easy way to stir frying pork belly
Ingredients
Pork Marinade
1

lb

Pork belly

0.5

tbsp

Black pepper

0.5

tbsp

Sugar

0.5

tbsp

Garlic powder

2

tbsp

Soy sauce (1 tbsp for the marinade, 1 tbsp for stir fry later)
Vegetables
1

Carrot

2

Green bell pepper

1/2

Onion

2

clove

Garlic
Instructions
Preparation
Cut the pork belly into small strips. Marinade the pork belly: add 0.5 tbsp of sugar, 0.5 tbsp of black pepper, 0.5 tbsp of garlic powder, and 1 tbsp of soy sauce. Mix well.

Chop the onion, bell pepper, and carrot into small pieces. Add them into a bowl for later use. Chop 2 cloves of garlic.
Stir Frying
Preheat a skillet at medium heat. No need to add oil, just transfer all of the marinaded pork belly to the skillet. Cook until the outside caramelized. Leave the pork belly on a plate for later use.

Leave some pork grease for cooking the vegetables, while transferring the rest into a jar or a paper bowl(if discard). See the FAQ section below for more details about how to deal with pork grease.

Sautee some garlic in the pork grease. Once you can smell the aroma, add the carrots in and cook until tender. About half a minute later, add bell pepper and onion into the pan.

To season the vegetables, add 1 tbsp of soy sauce. Add pork belly into the pan, mix well with vegetables.

Sautee for about 1 minute over high heat. Then transfer to a serving dish. This pork belly stir fry goes really well with rice!
Nutrition
---
FAQ
How to get rid of pork fat or bacon fat?
First of all, you should never wash grease straight into your sink.
Lard, which is another name for pork grease, is a very tasty cooking oil. You can put the hot grease in a glass jar and use on other dishes later. It can last up to a week if you keep it in the refrigerator.
If you want to discard it, leave the hot grease in a paper bowl. Once it has cooled, it will be solid and you can throw it away without worrying that it will leak.
Since this is one of our older recipes, the video doesn't seem to be that good. Check out our new recipes, which we filmed and edited better.
---
---
———
Bear Cusine is a participant in the Amazon Services LLC Associates Program
These links are affiliated. If you purchase through them, I will make a couple of cents to a couple of dollars. But that won't affect your prices at all. This is not a sponsored video.