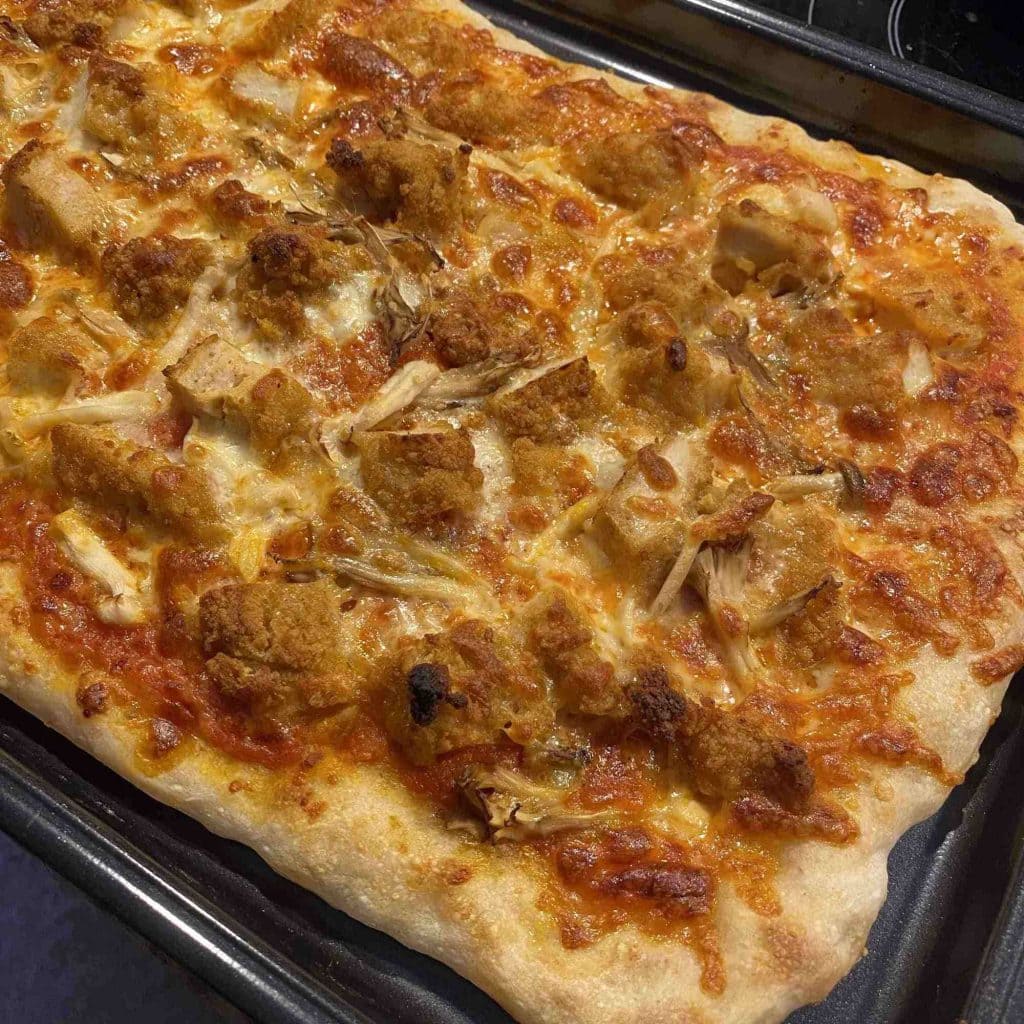 Today we would like to share with you how to schedule and make the perfect sourdough sheet pan pizza that is perfect for busy weeknights.
This recipe is highly inspired by 2 of the recipes that I've seen on YouTube.
No discard sourdough starter from Culinary Exploration channel: Stop Wasting Time & Flour Maintaining A Sourdough Starter. This Strategy is Way Better

In this video, you will how to better maintain your sourdough starter for weekly use without discarding any.
2. Sheet pan pizza recipe from Grant Bakes channel: 100% NO-KNEAD Sourdough Pizza (Home Oven, Sheet Pan Method)
For the pizza dough recipe, we tested out different ratios to suit our preferences. The original recipe has a higher% of dough hydration, with a thicker dough. I adjusted the recipe to a thinner and dryer crust.
The Benefits of Using a Sheet Pan for Pizza
Compared to using a pizza stone for a traditional way to make pizza, I found using a sheet pan is way easier, especially for preventing the break of the dough when stretching it. It also allows you to easily make a larger pizza, perfect for feeding a crowd or having leftovers for the next day. No need to worry about multiple batches or juggling multiple pans in the oven.
Sourdough Pizza vs. Traditional
Sourdough pizza is totally a game-changer for home-cook pizza to me. Unlike traditional pizza dough, which is made with commercial yeast, sourdough pizza dough is leavened using a sourdough starter.
Sourdough fermentation provides a range of benefits. The long fermentation process not only imparts a unique, complex flavor to the dough but also makes it more digestible. In addition to its flavorful and digestive advantages, sourdough pizza also offers a delightful texture.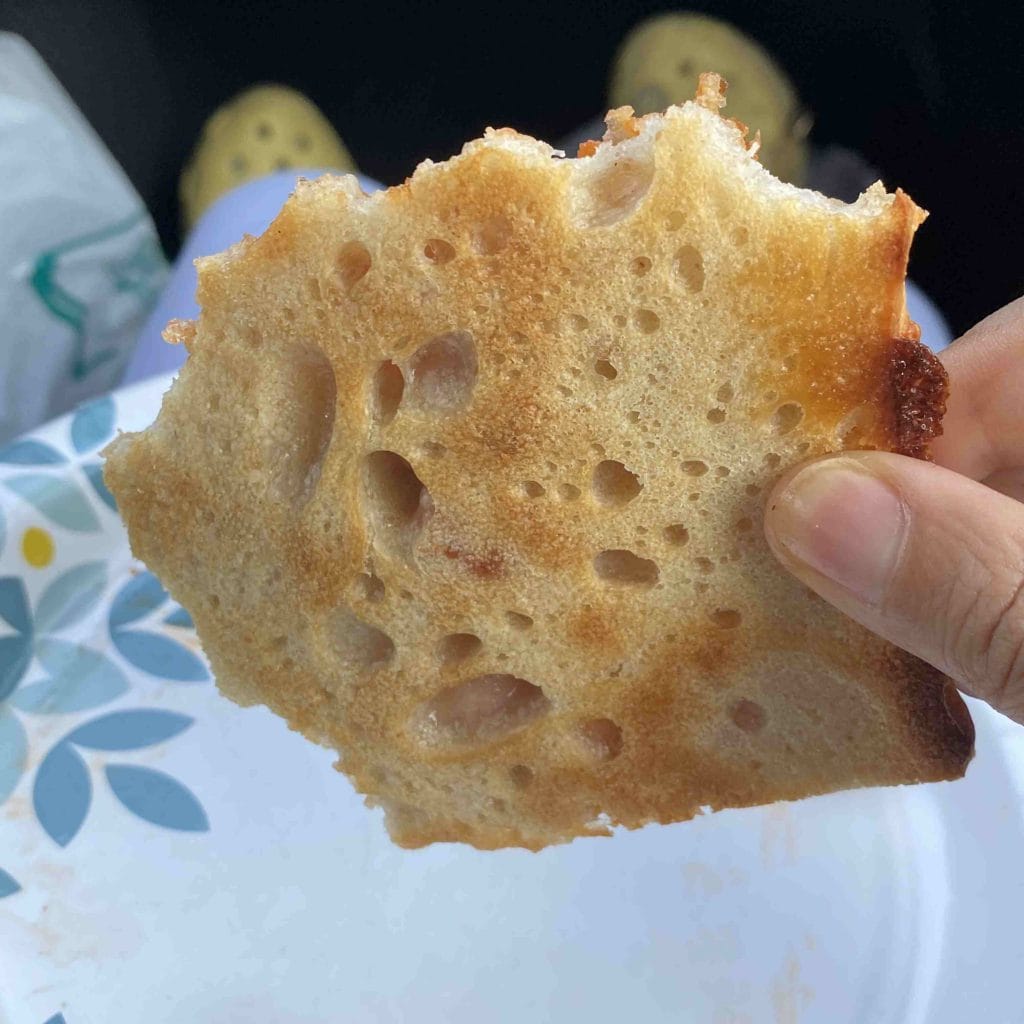 Quick and Easy Chicken Nuggets as Pizza Topping
Let's talk about one of the quickest and easiest toppings you can add to your sourdough sheet pan pizza – chicken nuggets/tenders/fillet! This unconventional choice might seem strange at first, but trust me, it's a game-changer.
---
---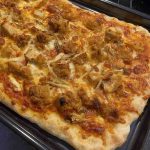 Print Recipe
Sheet Pan Sourdough Pizza
Quick & easy sheet pan pizza made from scratch!
Ingredients
Pizza dough
350

g

flour

245

g

water

35

g

sourdough starter

7

g

salt
Pizza Topper
2

tbsp

olive oil

1

cup

marinara sauce

1

cup

mushroom

1

cup

frozen chicken nugget / fillet / tender

mozarella cheese
Instructions
The day before, activate the sourdough starter until it doubles in size. I used approximately 20g of scrap starter from the jar and maintained a 1:1:1 ratio of flour and water.

Mix the sourdough starter with 245g of lukewarm water and 7g of salt. Stir well, then add 350g of flour. Use a spatula to combine the ingredients until there are no dry bits remaining. Cover the dough with a damp towel for 10 minutes. Gently fold the dough until feels tension, and leave the dough with the smooth side up. Allow the dough to rest at room temperature for approximately 4 hours. Afterward, transfer the bowl with the dough to the refrigerator until 1 hour before you are ready to bake. You can leave the dough in the fridge for up to 2 days.

When you're ready to make the pizza, take the dough out of the fridge about 1 hour before you plan to use it. Also, take out the frozen fried chicken nuggets/fillets/tenders to thaw at room temperature so it is easy to cut into bite sizes. Prepare a sheet pan by coating it with olive oil. Stretch and fold the dough, then place it on top of the pan. Cover it with plastic wrap (lightly greased with olive oil to prevent sticking). Return to periodically stretching the dough every 10 minutes. Preheat the oven to 450°F.

When the dough has reached your desired size, cut the frozen chicken into bite-sized pieces. Spread marinara sauce evenly over the dough, then place the chicken pieces (flesh side down, crust side up), mushrooms, and mozzarella cheese on top. Transfer the pizza to the oven and bake for approximately 15 minutes or until the cheese turns golden brown.

Remove the pizza from the oven and place it on a wire rack to ensure a crispy pizza bottom. Allow it to cool for about 5 minutes, then enjoy!
Nutrition