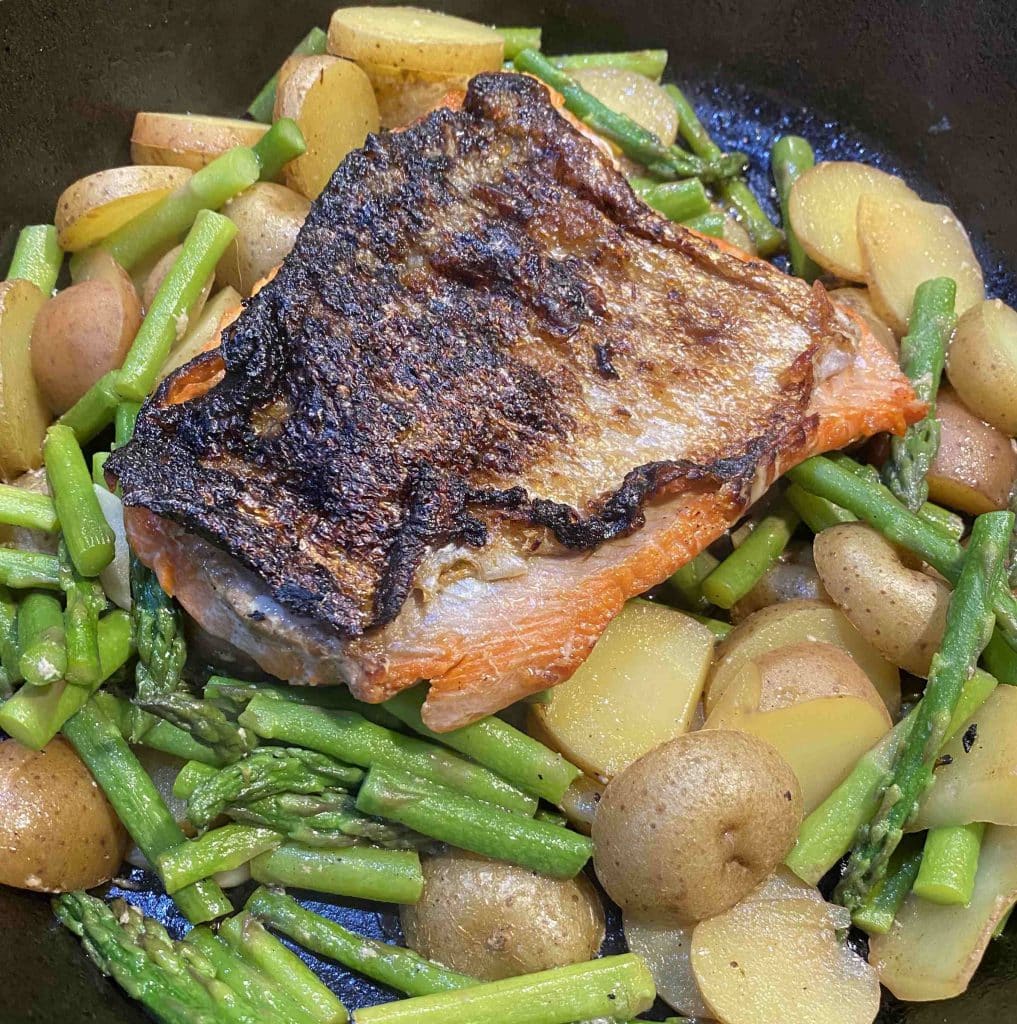 Today we would like to share with you a quick and balanced dinner recipe. It is very easy to make, full of flavor, and only needs to hand wash 1 cast iron pan at the end. Perfect for busy nights!
In this recipe I will share with you step-by-step so you can easily cook the perfect seared salmon skin with your cast iron pan! Plus, with this cooking method, the salmon remains moist and juicy, so there's no need to worry about overcooking it.
Why cast iron is the perfect choice for cooking salmon?
We love using cast iron for anything that requires a good sear. Its heat retention properties ensure that the salmon cooks evenly. With proper maintenance, it naturally becomes non-stick and is definitely a healthier option compared to non-stick pans. In the recipe below, I will provide detailed instructions on how you can achieve perfectly charred skin.
---
---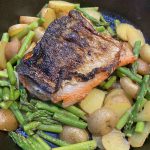 Print Recipe
One-pot Cast Iron Salmon Dinner
Perfect balanced dinner for work night
Ingredients
1

salmon fillet

1/2

lb

potatoes

cubed

Asperagus

minced garlic

sal

pepper

cooking oil

(optional) Japanese BBQ sauce

for fish marinade
Instructions
Marinate the salmon with Japanese BBQ sauce or any other seasoning you prefer for 20 minutes. Pat dry the skin side with a paper towel.

Preheat the cast iron pan until it feels very hot when you hold your palm above it. Move the pan aside and let it cool down for about 30 seconds (to prevent the food from burning), then add 2 tbsp of oil. Return the pan to the stove and place the salmon skin-side down over medium heat. Cook for about 3 minutes.

Use a spatula to gently detach the fish skin from the pan, then place the salmon on a plate for later use. (No need to flip it during the cooking process; the flesh side is still uncooked, and we will finish the cooking process with other ingredients later.)

In the same pan, add garlic and sauté with potatoes. Turn the heat to medium-high and add asparagus, season with salt, and mix well with everything. Place the salmon on top, with the flesh side down, add a splash of water (about 1/4 cup), and quickly cover it with the lid. Let it cook for about 10 minutes.

After 10 minutes, turn off the heat and season with black pepper or any other seasoning you prefer. Enjoy!
Nutrition