Welcome back to our Bargain Cooking series, where we share convenient and delicious meal ideas with the cheapest ingredients you can find in the grocery store. Today, we would like to share with you our take on a classic favorite, the Carnitas Taco.
The pork we used comes from a big chunk of pork shoulder that we previously introduced in the How to Make Lard post. We only used 1/4 of that pork shoulder for this recipe. (about 2 lbs)
Our recipe is a bit different than traditional carnitas taco, as we've added more veggies and pantry items to create a more balanced and nutritious meal. One key ingredient we've added is canned beans / peas (we used pigeon peas here), which add both flavor and texture. You can also experiment with other types of beans or legumes, such as lentils, which will melt down when slowly cooked for hours, creating a thick and flavorful sauce that coats the pork.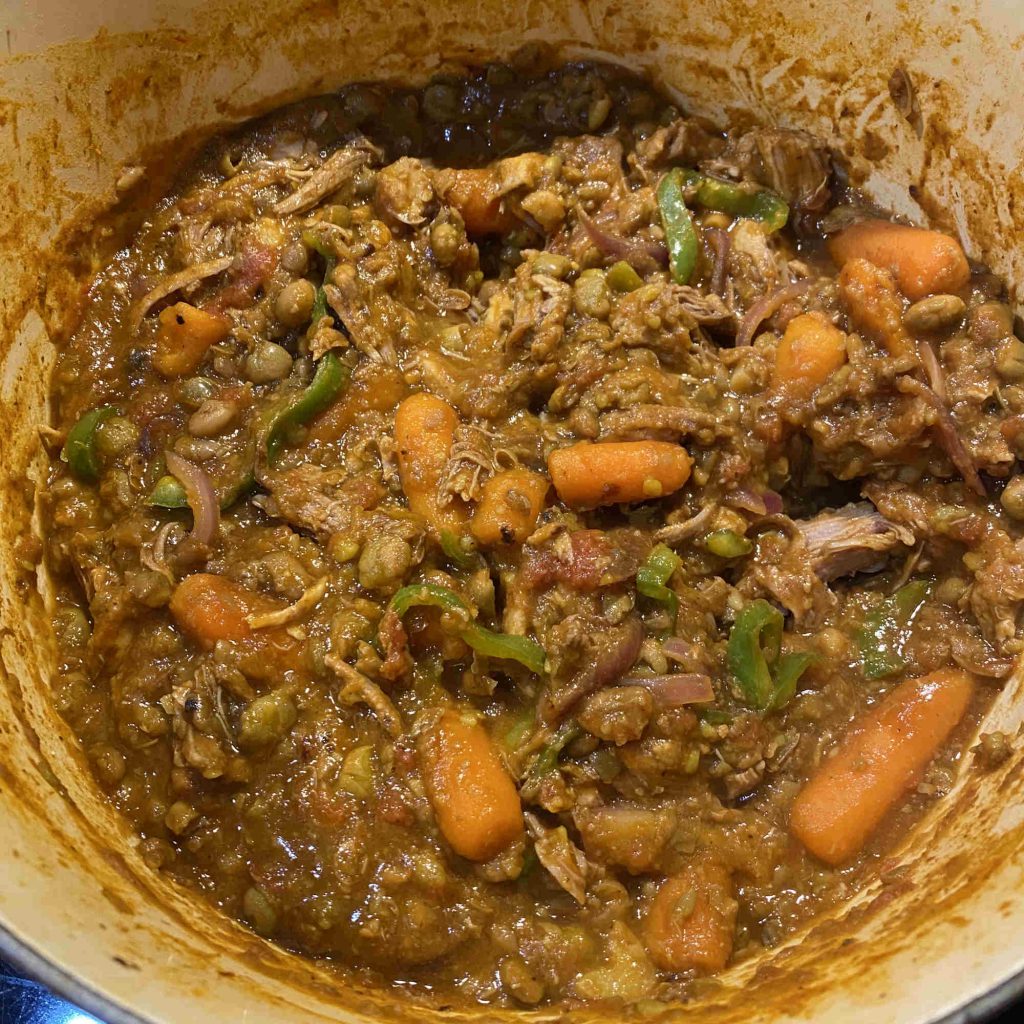 Overall, everything will be very mushy and creamy in the pot, creating a nice bonding of flavors together!
The initial pork stew part will take about 2 hours, including prepping, which allows the flavors to meld together and develop even further. However, once the stew is done, it can become a quick dish whenever you need it. You can store it in the fridge for up to three days or freeze it in smaller batches to reheat later. This is a meal that you'll want to have on hand for those busy weeknights when you don't have time to cook from scratch.
Instead of using pickles, we decided to incorporate refreshing kimchi for an Asian fusion twist here. Kimchi is a convenient ingredient to store in the fridge and is packed with probiotics that promote gut health. It also adds a unique tangy and spicy flavor that elevates the overall taste of the dish to the next level.
---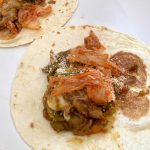 Print Recipe
Pork Shoulder Kimchi Taco
A twist on the classic Carnitas Taco, with some Asian fushion!
Ingredients
2

lb

pork shoulder

diced into large chunk

¼

onion

sliced

1

long hot pepper

sliced

2

clove

garlic

sliced

1

tbsp

lard

or substitute with other oil

1

can

diced tomato

1

can

beans

or you can use the soaked dried beans here

1

lb

baby carrot

2

bay leaves

2

dried chili peppers
Taco part
warmed tortilla

kimchi

scallion

cheese
Instructions
Heat up a Dutch oven over medium heat and melt 1 tbsp of lard.

Add the sliced onion, pepper, and garlic to the pot and quickly stir-fry them until they get a little bit charred and release their fragrance. Transfer them to a bowl for later use.

Then, add the pork shoulder chunks into the same pot and char the surface. Next, use the remaining grease in the pot to stir-fry 2 bay leaves and 2 dried chilis until their aroma is released.

Add 1 can of diced tomato, 1 can of beans, and 1 bag of baby carrots. Mix everything well, bring to a boil, and cover the lid. Cook for 1 and a half hours.

Pull the pork apart and mix well with the sauce. Turn off the heat and add the charred onion and peppers mix, and mix well with everything.

Warm up some tortillas and add a scoop of pork on top. Add the ingredients listed in the topping section or substitute to other toppings that you like. Enjoy!
Nutrition