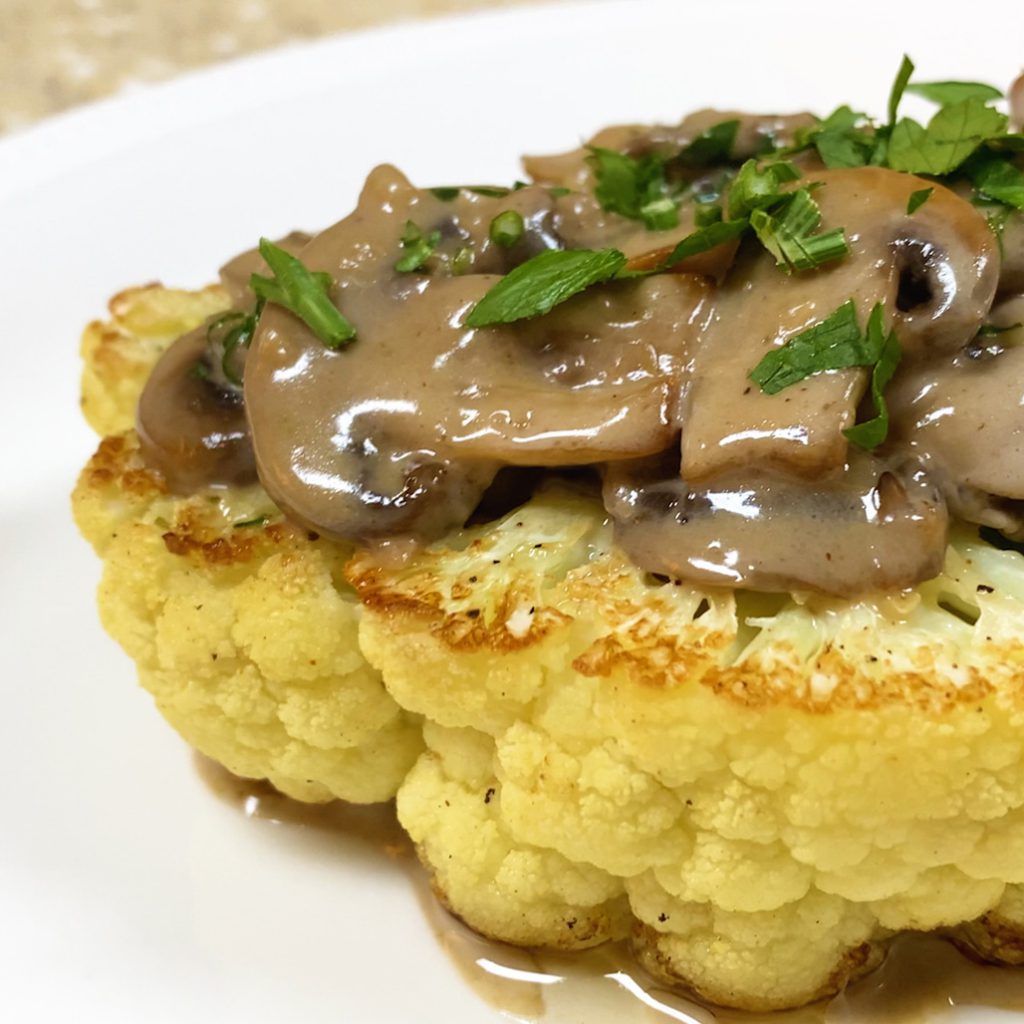 This cauliflower dish tastes super amazing. With a few steps of preparation, it can be done within 15 minutes!
---
---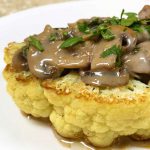 Print Recipe
Cauliflower Steak with Creamy Mushroom Sauce
A delicious meal that can be easily done within 15 minutes!
Ingredients
1

whole cauliflower

1

pack

mushroom

1

tbsp

butter

2

tbsp

dry white wine

1/2

cup

vegetable stock

1/4

cup

heavy cream

1/4

cup

parmesan cheese

2

clove

garlic

parsley

thyme

salt

pepper
Instructions
Preheat the oven at 350ºF (176ºC). Chop mushrooms into slices. Dice some garlic, finely chop the parsley, and pluck the thymes off of their stems.

Remove the leafy part and extra stem from the cauliflower, chop the 2 sides off, and cut through the cauliflower in the middle to get 2 cauliflower steaks.

Heat up a skillet at medium heat, sear the cauliflowers on both sides. Add 1 tbsp of butter for extra flavor. Season with salt and pepper.

Send the skillet to the oven, and roast at 350F for about 10 minutes while preparing the sauce.

Prepare the sauce

– Heat up another pan, add some vegetable oil mix with 1 tbsp of butter. Add the mushrooms and cook until tender.

– Add 2 tbsp of wine to deglaze the pan, ½ cup of vegetable stock (or chicken stock), half a cup of heavy cream, parmesan cheese, thyme, and parsley. Stir well.

– Let the sauce reduce to the consistency that you like. You can taste the sauce to see if it needs extra salt or not.

Meanwhile, the cauliflower steaks are fully cooked in the oven. Transfer the cauliflower to a plate and pour the mushroom sauce on the top. Enjoy!
Nutrition
---
———
Bear Cusine is a participant in the Amazon Services LLC Associates Program
These links are affiliated. If you purchase through them, I will make a couple of cents to a couple of dollars. But that won't affect your prices at all. This is not a sponsored video.