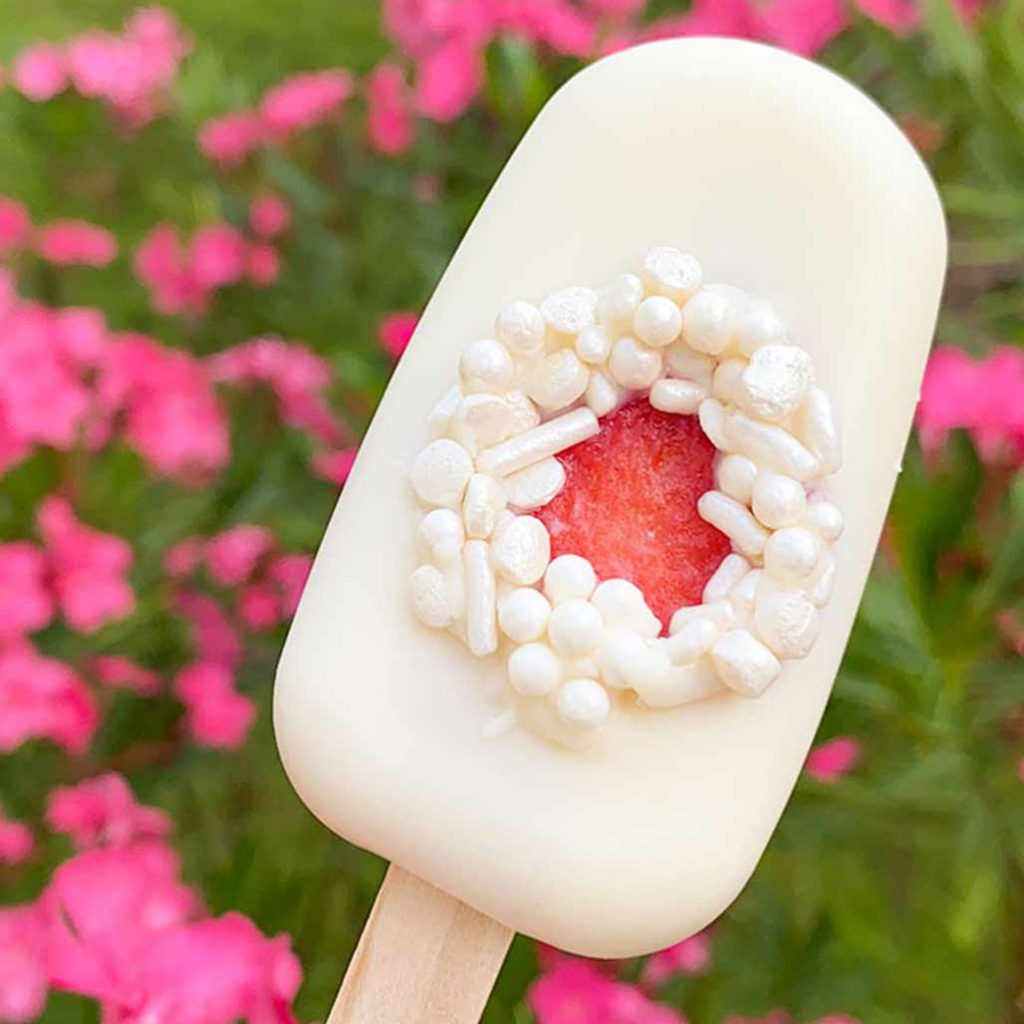 These strawberry cakesicles are super fun to make. It is so satisfying to see the cake come out of the mold!
---
---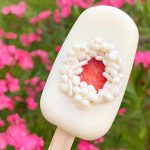 Print Recipe
Strawberry Cakesicles
A detailed recipe about how to make strawberry cakesicles
Ingredients
120

gram

cake

You can choose from pound cake, chocolate cake, or any types of cake will work for this recipe.

1

tsp

heavy cream

1/2

cup

white chocolate

1 tsp for the cake dough, 1/4 cup for coating the cakesicles

4

strawberry slices

2

tbsp

sugar pearl sprinkles
Instructions
Prepare the cake, it can be a cake from the store, a homemade cake or any other leftover cake would work for this recipe. For the chocolate cake base, please watch the video for more detail.

Break up the cake, add heavy cream and melted chocolate into the cake, it will make it stick together like dough.

Note: The ratio of the cream/melted chocolate to the cake is not fixed. I usually add a small amount at a time and roll it together, until it feels wet like a dough, and can be easily stuck together.

Melt the white chocolate, then fill the popsicle mold with it. Rotate the mold to spread the chocolate evenly, until it is covered all over the mold. Use a spatula to remove the excess chocolate.

Place strawberry slices on the mold, and then insert the popsicle sticks while the chocolate is still warm.

Place the mold in the freezer for 5 minutes. Once take out again, add the second layer of chocolate to make sure the mold is fully covered. Freeze for another 5 minutes.

Add the cake dough in and gently press it to make sure it fills in all the gaps inside the mold. Cover more melted chocolate on the top. Use a spatula to spread the chocolate evenly and then remove the excess.

Freeze for 5 minutes and it will be very easy to push the cakesicles out of the mold. If there is chocolate cover the strawberry slices, it would be a very thin layer and can be easily removed with a folk.

To decorate the cakesicles, add warm chocolate to a piping bag and fill around the edge between strawberry and chocolate. Add sprinkles on the top. The warm chocolate will work like glue and make the sprinkles stick to the cakesicle when it cools down. Enjoy!
Nutrition
---
———
Bear Cusine is a participant in the Amazon Services LLC Associates Program
These links are affiliated. If you purchase through them, I will make a couple of cents to a couple of dollars. But that won't affect your prices at all. This is not a sponsored video.
---
Similar Recipes