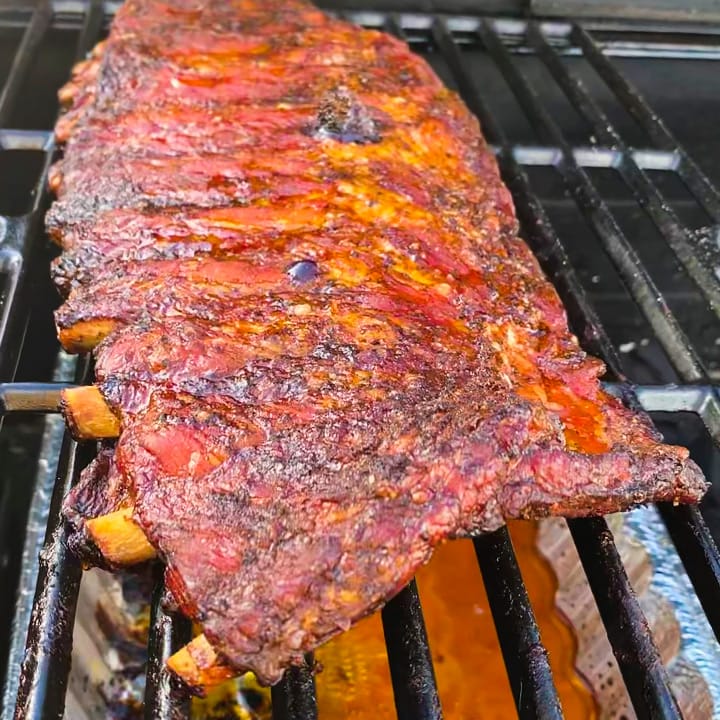 Today we would like to share with you a bbq rib recipe that you can easily cook on your charcoal grill.
It doesn't require any complicated skills. Just marinade it, place it on the charcoal, chill out for a couple of hours and you will get this amazingly delicious rib.
This recipe also applies to spareribs or baby back ribs.
We were using a rack of St. Louis-style ribs in the video. Because it is so good we finished all within 20 minutes and got 0 leftovers. It was so good!
---
---
---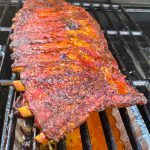 Print Recipe
Barbecue Ribs on a Charcoal Grill
BBQ St. Louis-style rib. This recipe also applies to spareribs or baby back ribs.
Ingredients
Dry Rub
2

tbsp

salt

2

tbsp

garlic powder

2

tbsp

paprika

2

tbsp

cayenne pepper

2

tbsp

black pepper
Instructions
Use a paper towel to pat dry the rib's surface. Trim off the large piece of fatty part, and then remove the membrane on the back of the rib.

You can also score the meaty part in between the bones, which will help the flavor get into the meat.

Cover both sides with the dry rub. Marinade for 15 minutes, while we can start to prepare the charcoal.

Before lighting it up, add some unlit charcoal to the grill, and line them up to one side. Use the charcoal chimney to start the charcoal. Wait until white ashes partially cover the top part of the charcoal, and pour the hot charcoal onto the empty side.

Preheat the grill for 5 minutes. Use a wire brush to clean the grate, and wipe with oil (you can use a paper towel to soak in the oil, and then use a tong to hold it). Repeat this process several times, so that the grate will be non-stick.

Add an aluminum pan with apple juice next to the charcoal, this will help to keep the rib moist during the smoking process, and also catches the juice that drips off.

Place the ribs on the grill, on the cold side (above the apple juice pan) and add a piece of wood chunk on top of the charcoal. Close the lid and let it cook for about 2 hours. Make sure to come back and add more charcoal before they burned out.

2 hours later. Brush some barbecue sauce on the rib, and wrap it up with heavy-duty foil. Keep cooking it, until the internal temperature reaches 200F. Let it rest for 15 minutes before serving it. Enjoy!
Nutrition