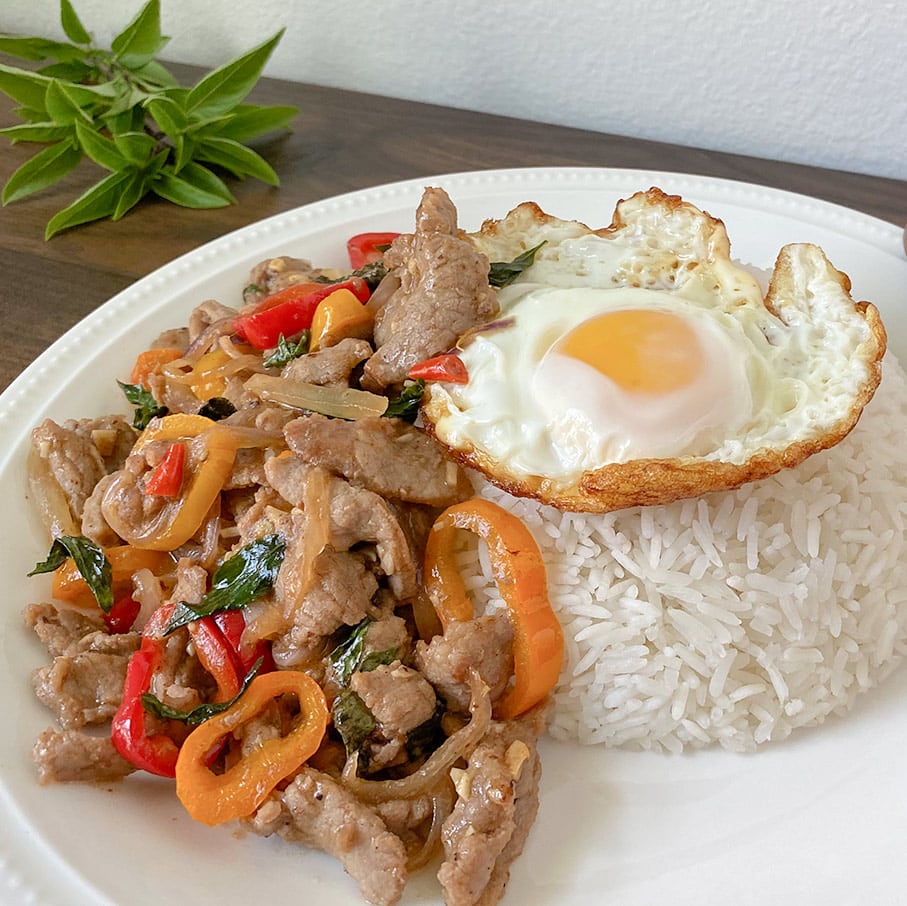 Recently, I discovered that we have way too much Thai basil in the garden … I planted so many seeds this year and now we end up having way too much.
So it is time to cook with it! In the next few coming up blog post & video, we will share with you some Thai basil recipes that we like to cook with!
Compared to regular sweet basil, Thai basil has a licorice flavor. It will add so much wonderful smell and will get your dish to the next level.
Today we will start with beef!
This Thai basil beef stir fry is super flavorful and can be easily done in 20 minutes.
We have approved that this recipe is equally delicious in our local Thai restaurant. But way cheaper when you cook it at home!
---
---
---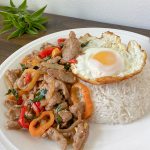 Print Recipe
Thai Basil Beef
An easy stir fry dish with Thai basil… So flavorful and tasty!
Ingredients
Main Ingredients
1

lb

beef

sliced

1

cup

thai basil leaves

1/4

onion

sliced

6

mini sweet peppers

egg

(optional, 1 egg for each serving)
Beef Marinade
3

tbsp

water

1

tbsp

black pepper

1

tbsp

oyster sauce

1

tbsp

soy sauce

2

tbsp

corn starch

2

tbsp

canola oil
Stir Fry Sauce
1

tbsp

oyster sauce

1

tbsp

soy sauce

1

tsp

fish sauce

½

tsp

sugar

salt

to taste (we used 1/2 tsp)

3

clove

garlic

chopped

3

thai chili peppers

chopped
Instructions
Rinse the Thai basil & remove the leaves from the stem.

To marinade the beef, add 3 tbsp of water and mix until the beef absorbs all of the water.

Add 1 tbsp of black pepper, 1 tbsp of oyster sauce, and 1 tbsp of soy sauce. Mix well.

Add 2 tbsp of corn starch, so that it will lock in the water and flavors that we added previously. Mix together well.

Lastly, add 2 tbsp of cooking oil to lock in everything. Set it aside for later use while we prepare other ingredients.

Chop onion and mini sweet peppers into thin slices. Also, chop garlic and Thai chili pepper into small pieces(for the sauce).

For the stir fry sauce, add the minced garlic and chili peppers in a bowl. Add 1 tbsp of oyster sauce, 1 tbsp of soy sauce, 1 tsp of fish sauce, half tsp of sugar, and half tsp of salt.

Add 3 tbsp of water to it and mix well. Set it aside for later use. This sauce smells so good already!

Place the wok over medium-high heat, and let it heat up for a little bit until it becomes very hot (but no smoke). Add some oil and crack an egg in. Remove it from the pan when the edge is brown and the egg can be easily moved around inside the wok. Save this sunny-side-up egg for later use.

In the same wok, while it is still hot, add half of the beef, and then spread them out evenly inside the wok.

Only added half of the beef at one time, so that it won't decrease the internal temperature too quickly, otherwise, the beef will become watery and we won't get much browning on beef. Try not to stir up the beef until one of the sides is get brown. And then cook until 80%.

Do the same to another half. Transfer the beef to a bowl for later use.

Add the onion and peppers in the same wok. Stir well until everything releases the aroma. Add the beef back to the wok. Together with the sauce. Mix well with everything, for about 15 seconds, and then turn off the heat and add the basil leaves in. Use the remaining heat to welt the basil, it already smells amazing just in a few seconds.

This Thai basil beef is perfect to pair with rice. Place the sunny-side-up egg on the top, and it is done! Enjoy.
Nutrition