Today we would like to share with you an easy way to cook beef shank.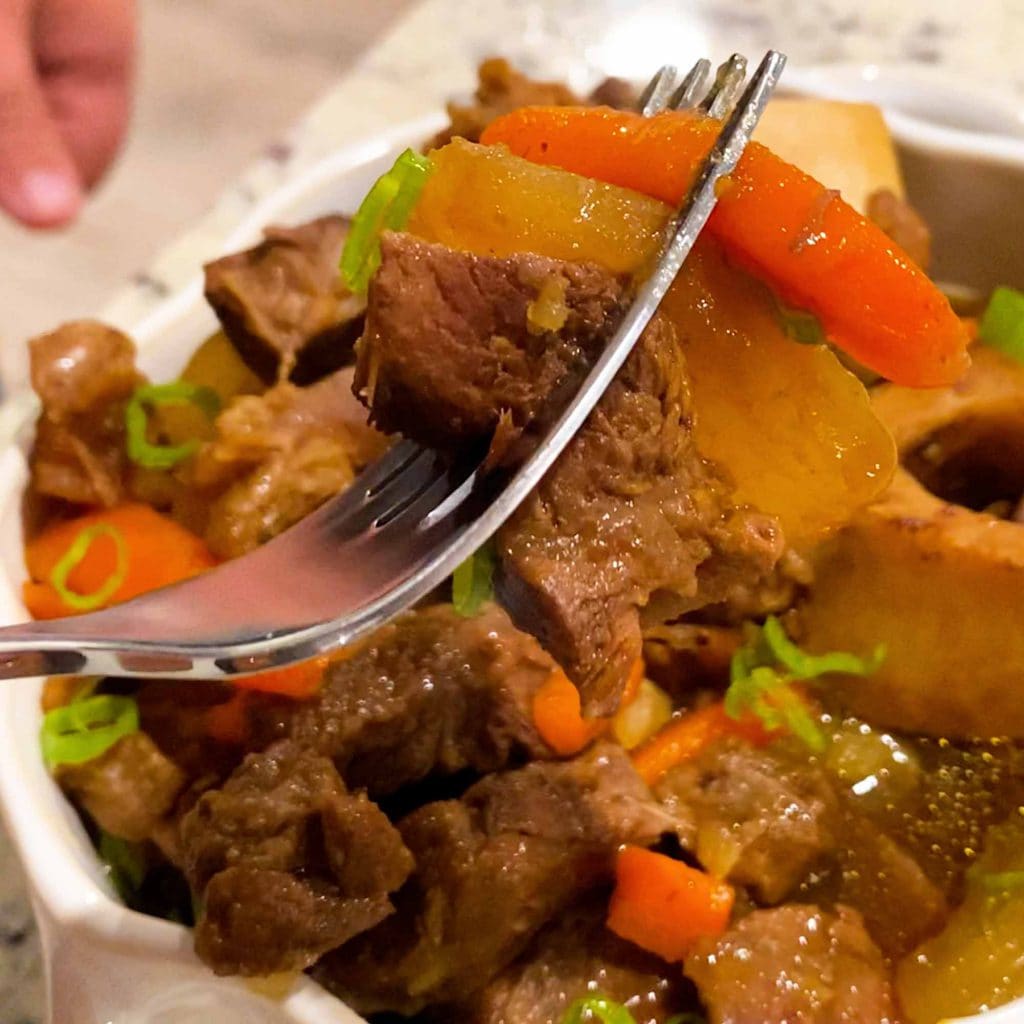 Compared to other lean cuts, the shank is my favorite for making a stew. It is such a tough cut of meat and has so many connective tissues in it.
However, after 2 hours of braising, all of the toughness will slowly break down and turn into gelatin form, which will make the beef so tender and moist that it never dries out!
Moreover, it is one of the cheapest cuts of meat!
This stew goes so well with rice, mashed potatoes, or egg noodles. Just like other stew dishes, it tastes even better the next day!
---
---
---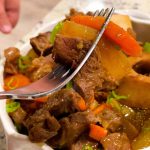 Print Recipe
Beef Shank Stew with Root Vegetables
A hearty meal with the most tender beef. Perfect to pair with rice or egg noodles!
Ingredients
3

pieces

beef shank

about 2-3 lbs
Spices
1

cinnamon stick

1

star anise

1

knob

ginger

2

tbsp

coriander seed

1

tbsp

Sichuan peppercorn

5

dried chili peppers
Seasonings
2

tbsp

brown sugar

3

tbsp

Chinese rice wine

¼

cup

soy sauce

2

tbsp

dark soy sauce

2

tbsp

oyster sauce
Veggies
1

potato

3

carrot

½

daikon radish
Instructions
In a large bowl, add enough water to cover the beef shank. Cover with a plastic film and leave it in the fridge for about 3 hours. (This will soak out the majority of blood from the beef and will help us to get a cleaner broth and less foamy part compared to cooking it directly)

3 hours later, remove from the bloody water. Use a paper towel to pat dry the beef, and chop it into small pieces.

Toss some oil, and then transfer the beef to a baking sheet. We are going to brown the surface inside the oven for about 10 minutes, at 500ºF. (You can also sear the beef inside the pot with several batches. It is quicker with oven.)

Heat up the dutch oven with some oil at medium-low heat, then add the spices in. Cook until these spices release the fragrance. Add about 2 tbsp of brown sugar. Mix well.

Take the beef out of the oven, and then add them to the pot. To season it, add 3 tbsp of Chinese rice wine, ¼ cup of soy sauce, 2 tbsp of dark soy sauce, and 2 tbsp of oyster sauce. Mix this well and then add about 2 cups of hot water to cover everything inside the pot. Once it boils, use a spoon to remove the foamy part, cover it with the lid and let it cook for 1 hour at low heat.

For the veggies, we choose to use potato, carrots, and daikon radish here. You can choose other ingredients that you like. Cut them into small pieces. And then add into the pot. Mix well with the beef. Cover with lid for 15 minutes.

Turn the heat to medium-high, open the lid and cook for another 15 minutes, while letting the sauce reduce. You can taste it and see if it needs extra salt or not. Cook until these root vegetable becomes tender. I especially like the potatoes, they will start to break down on the outside and the starch will help thicken the sauce.

Lastly, transfer into a bowl, sprinkle with spring onion, and it is ready to serve!
Nutrition