Today, we would like to show you how to cook pulled pork on a charcoal grill. This recipe is a definite crowd-pleaser, and you'll be the star of the party!
It is also perfect for those new to grilling as it is easy to follow, and even a beginner cook will have great success with it on their very first attempt.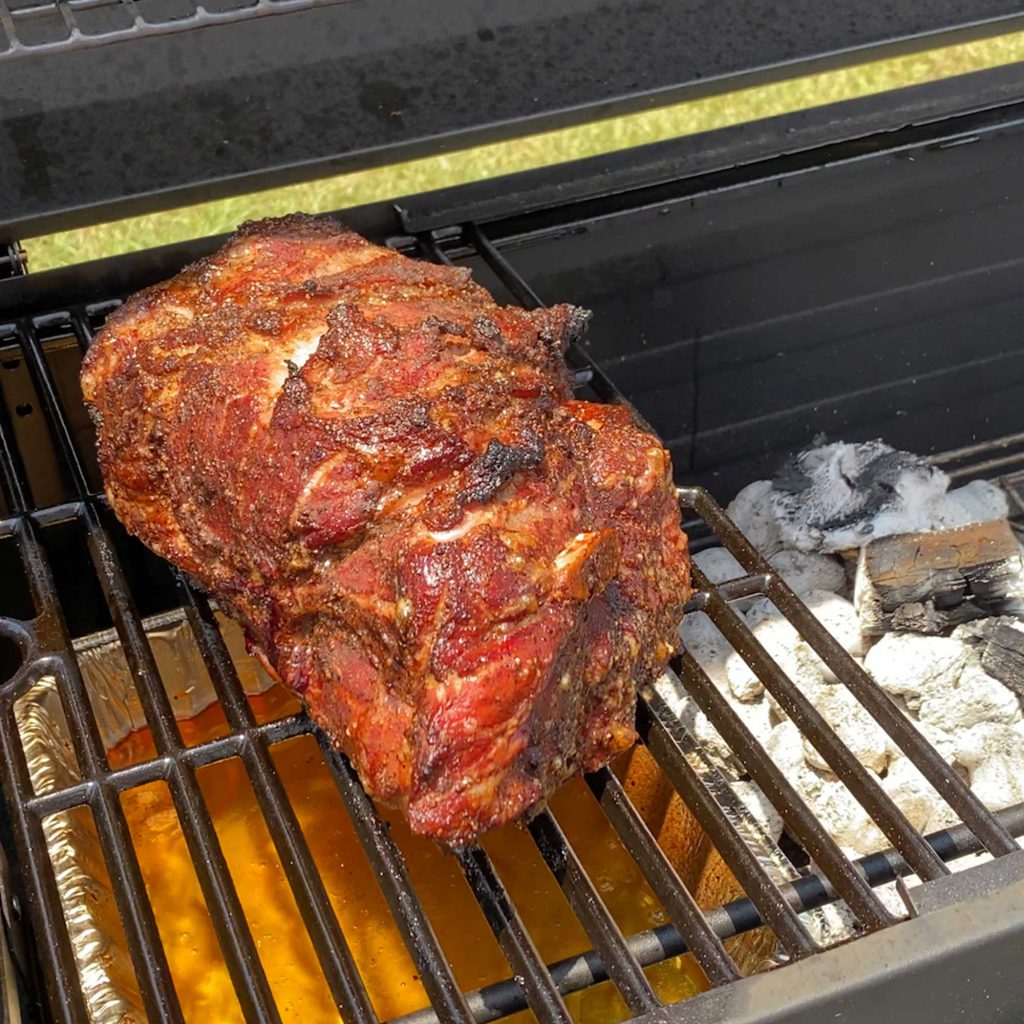 Despite the fact that this recipe calls for many hours of cooking time, there isn't much more that has to be done. This allows you to spend time with your buddies and enjoy your time together.
With this recipe, it's easy to prepare a large amount of food with minimal effort, which makes it a great choice for summer barbecues with friends. It took us approximately six hours to complete the cooking process. If you want to make this dish for a party, make sure you give yourself enough time.
---
---
Season the Pork
For the preparation, we brine the pork for 1 hour ahead. This process helps to keep the pork moist and flavorful. You can dissolve some salt in water and add the pork. The ratio I used is 1/4 cup of kosher salt to 4 cups of water. Check out our video on YouTube for more detail.
However, one of the big challenges is to find a container that can whole this large piece of pork cut and then submerge the entire piece under the water. If you couldn't find one that can fit, try the dry brine method instead.
For dry brine the pork shoulder, combine kosher salt, brown sugar, and any desired seasonings in a bowl. Pat dry the pork surface and rub the seasoning mixture all over the pork shoulder, making sure to cover it evenly. Place the pork shoulder in the fridge uncovered overnight.
Smoky Flavor
We use apple wood here to smoke the pork. The sweet and fruity aroma of apple wood gives a unique and delicious taste to the pork. You can also experiment with different types of wood, such as hickory, mesquite, or pecan.
To prolong the smoking time, you can soak the wood in water for 30 minutes. Make sure to drain well the wood before adding it to the grill. This can help to prevent them from burning too quickly and provide a more consistent and longer smoking time.
Internal Temperature for Pulled Pork
To ensure that the pork is pullable, make sure to cook it until the internal temperature reaches 200ºF.
When we cook pork tenderloin, we usually aim at 150ºF for a medium cook level and the pork is very tender. That's also a safe range to ensure that the pork is cooked and the bacteria are killed. While for this pulled pork recipe, it is important to reach above 200ºF. Otherwise, the pork will be very difficult to pull.
Moreover, because this is a particularly fatty cut, a higher temperature will ensure that the fat is rendered off and the exterior portion is crisp and tasty.
Sauce to go with
Before pulling the pork, you can add some flavorings you like. When I eat it, I like to add different things. So each time it will have a different taste and never get bored. Here are some options we like:
BBQ Sauce
A classic option for the pulled pork recipe that everyone likes. The tangy, sweet, and often spicy flavors of BBQ sauce complement the smoky flavors of the meat and help to balance out the richness of the pork.

Homemade Tomatillo Salsa
This salsa goes so well with the pork. It is so flavorful and has a sour tangy taste, and will give some freshness to the pork. They balance so well together.
Ingredients:
– 4 tomatillos
– 3 serrano peppers
– ¼ onion
– 1 garlic clove
Methode: Use a skillet (or air fryer/oven) to toast all of the ingredients above for 10 minutes. And then add 2 tbsp of lime juice, ½ tsp of salt, and a bunch of cilantro. Blend everything well.

Garlic, pepper, and cilantro
I usually like to add these 3 ingredients on the second day when heating up the leftover pulled pork. Compared to the previous tomatillo salsa, it has a stronger garlicky flavor, and the pepper and garlic are just a perfect match. Even though the ingredients are so simple but it adds so much flavor bomber to the dish.
Methode: Heat the pork in the microwave. While it is still super hot, add 1 clove of crushed garlic, pepper slices from 1 serrano, chopped cilantro, and mix everything well. 
---
---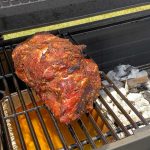 Print Recipe
Pork Shoulder on Charcoal Grill
Making delicious pulled pork on the charcoal grill!
Ingredients
Brine (salt to water ratio)
¼

cup

kosher salt

1

cup

water
Seasoning
yellow mustard

black pepper

garlic powder

brown sugar
Instructions
Dissolve the salt in lukewarm water. The salt to water ratio we used is 1/4 cup of kosher salt to 4 cups of water. Add some ice cubes to cool down this warm water before adding it to the pork. Soak the pork in. Leave it in the fridge for 1 hour.

An hour later, fill the charcoal into the chimney, light up some paper, and put the charcoal chimney on the top.

Use a paper towel to pat dry the pork. Squeeze some yellow mustard and make it cover evenly on the pork. This will help the powder seasoning mix stick to the pork. Cover the pork evenly with black pepper, garlic powder, and brown sugar.

When there are white ashes covered on the top part of the charcoal, it is ready to grill! Pour the lighted charcoal to the grill, also lay some unlit charcoal together, so it will extend the cooking time. Let it heat up for 5 minutes, then use a wire brush to clean the grate. Then wipe it with a paper towel that is soaked in oil, and repeat this process several times.

We are going to place the pork on the side of indirect heat. Before adding the pork, place an aluminum pan with 1 cup of apple juice underneath. This will help to keep the pork moist during the smoking process, and also catches the juice that drips off.

Lay 2 chunks of wood on top of the charcoal. Close the lid and cook for about 3 hours.

I usually come back to check the temperature every couple hours, and spray some apple juice on the surface. So the pork won't dry out.

If the grill temperature drops below 300, add more charcoal in, together with a block of wood chunk with.

Now after 3 hours of cooking time, we've already got a lot of smoking flavor. Then we are going to transfer this pork into the apple juice pan.

Clean the crate, and cover the tray with a heavy-duty aluminum foil. Add more charcoal in and let it keep cooking for about 1 hour.

Cook until the internal temperature reaches above 200F. If it is below this range, it will get cooked but won't be as easy to pull.

Remove the pork from the grill, and let it rest for 1 hour, so that it will keep the maximum of the juice.

One hour later, it is time to pull! You can add some bbq sauce or other seasoning you like to mix well here. Enjoy!
Nutrition
We think you'll be blown away by how easy and delicious this pulled pork dish is. Don't forget to leave a comment below and tell us how your pork butt dish came out.