If you're craving a hearty, comforting meal that's simple to make, try out this recipe! This recipe can be made in under 25 minutes with just a few simple steps.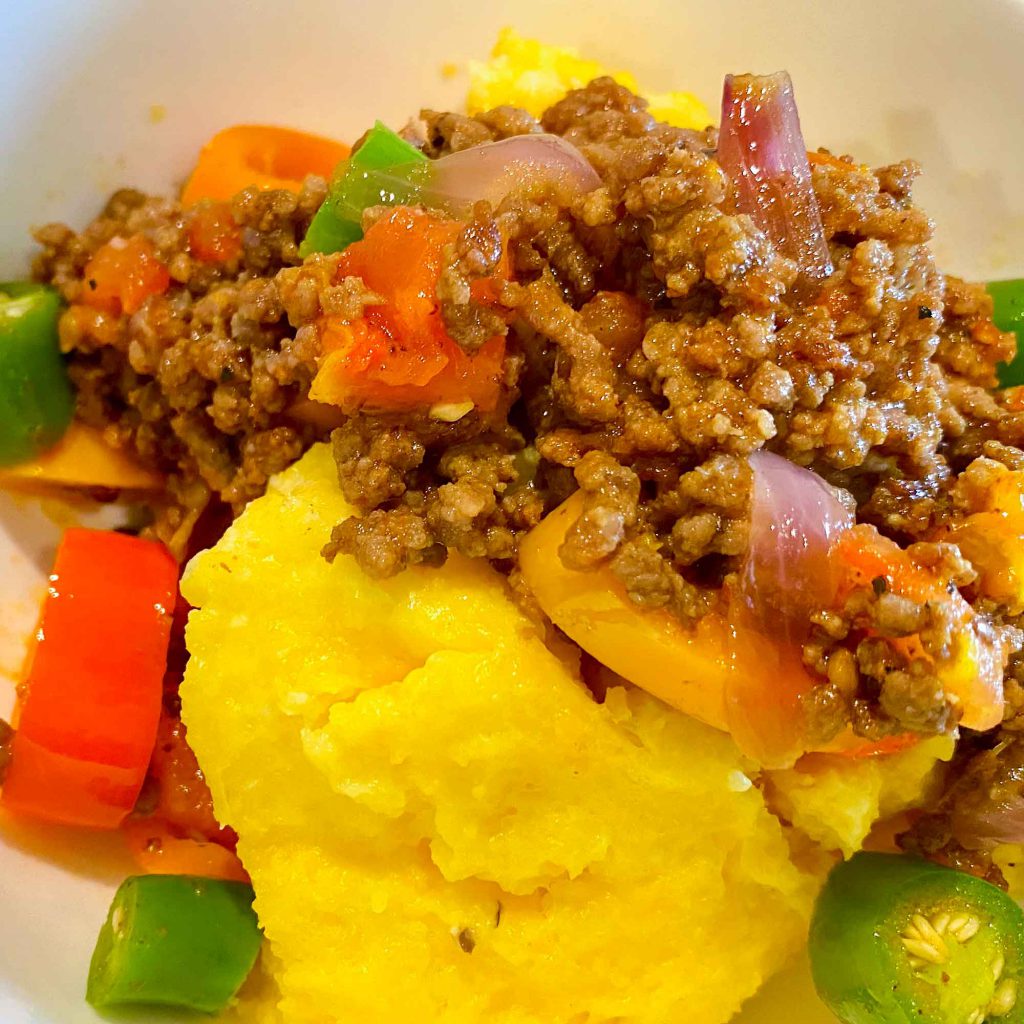 The other day I saw Bob's Red Mill Yellow Corn Polenta from the supermarket and decided to give it a try. This cheesy polenta recipe is actually inspired by the recipe on the back of its packaging. We had a few modifications here, which ends up with a shorter cooking time and the polenta turn into a creamy texture.
The Origin of Polenta
Polenta is made from ground cornmeal and originated in northern Italy. The word "polenta" comes from the Latin word "pultes," which means "porridge." The polenta porridge is a traditional dish that is made from ground cornmeal, water, and salt. It has a smooth and creamy texture with a slightly sweet and nutty corn flavor.
While polenta is most usually associated with Italian cuisine, it has also made its way into other cultures, most notably the southern United States, where it is known as grits.
Polenta V.S Grits
The main difference between polenta and grits is the type of corn used to make them. Polenta is made from ground yellow or white cornmeal.
Grits are made from ground hominy, which is a type of corn that has been treated with an alkali solution to remove the outer hull and germ. As a result, the finished product has a coarse, gritty texture, hence the term "grits."
These two types of cornmeal give each dish a slightly different texture and flavor. Polenta is creamier and has a milder flavor, while grits have a stronger corn flavor and a coarser texture.
The Cheese
There are various types of cheese that can be used in polenta porridge. Some popular options include parmesan, gouda, ricotta, and feta cheese. To make the polenta rich and flavorful, we combine white cheddar cheese and milk in this recipe.
The cheddar cheese gives a strong and nutty flavor to the dish. Compared to other cheeses, the cheddar melts easily and blends well with the polenta. We also added 1/2 cup of milk here to create a creamy texture, which is ideal for a soothing porridge-like dish.
The Ground Beef Topping
I discovered ground beef topping by chance while using some leftover ingredients from the fridge. The combination turned out to be quite delicious. Initially, I had intended to use shrimp as a topping, similar to the well-known shrimp and grits dish we had during our visit to New Orleans. However, due to the time it takes to thaw frozen shrimp, I decided to use ground beef instead. The final result was so satisfying.
One of the benefits of using ground beef in this recipe, compared to shrimp, is that you don't have to worry about overcooking it and ending up with a rubbery texture. Ground beef is also easy to separate and blends well with the polenta, resulting in a perfect pairing of beef and polenta in every bite.
---
---
Overall, this recipe is a great option for a quick and satisfying meal. The combination of tomato, onion, and peppers with ground beef really brings the dish a wonderful flavor. It's a great way to cook a large batch and save it for later. If you have the chance, do not hesitate to try this recipe, you will not regret it!
---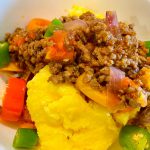 Print Recipe
Cheesy Polenta with Ground Beef Topping
A warm hearty meal that packs of wonderful flavor.
Ingredients
Polenta
1

cup

corn polenta

3

cups

water

½

cup

milk

½

cup

white cheddar
Beef Topping
2

tbsp

cooking oil

½

lb

ground beef

2

tbsp

soy sauce

1

tbsp

black pepper

1

tomato

diced

½

onion

sliced

3

mini sweet peppers

sliced

2

serrano peppers

sliced
Instructions
In a medium pot, bring 3 cups of water to boil, add 1 cup of corn polenta. Stir well and cook for 5 minutes over medium heat. Turn the heat to low, add ½ cup of milk, and cook for about 15 minutes (with the lid half on). You can use this time to prepare the beef topping in step 2. Stir in ½ cup of cheddar cheese before serving.

Preheat a cast iron skillet to very hot, add oil and the ground beef in. When the beef becomes brown outside, add 2 tbsp of soy sauce and 1 tbsp of black pepper. Add the diced tomato in and cook for about 5 minutes.

Add onion and pepper slices in, and mix well with everything until they release the aroma. Turn off the heat and it is ready to serve on top of the polenta.
Nutrition
---