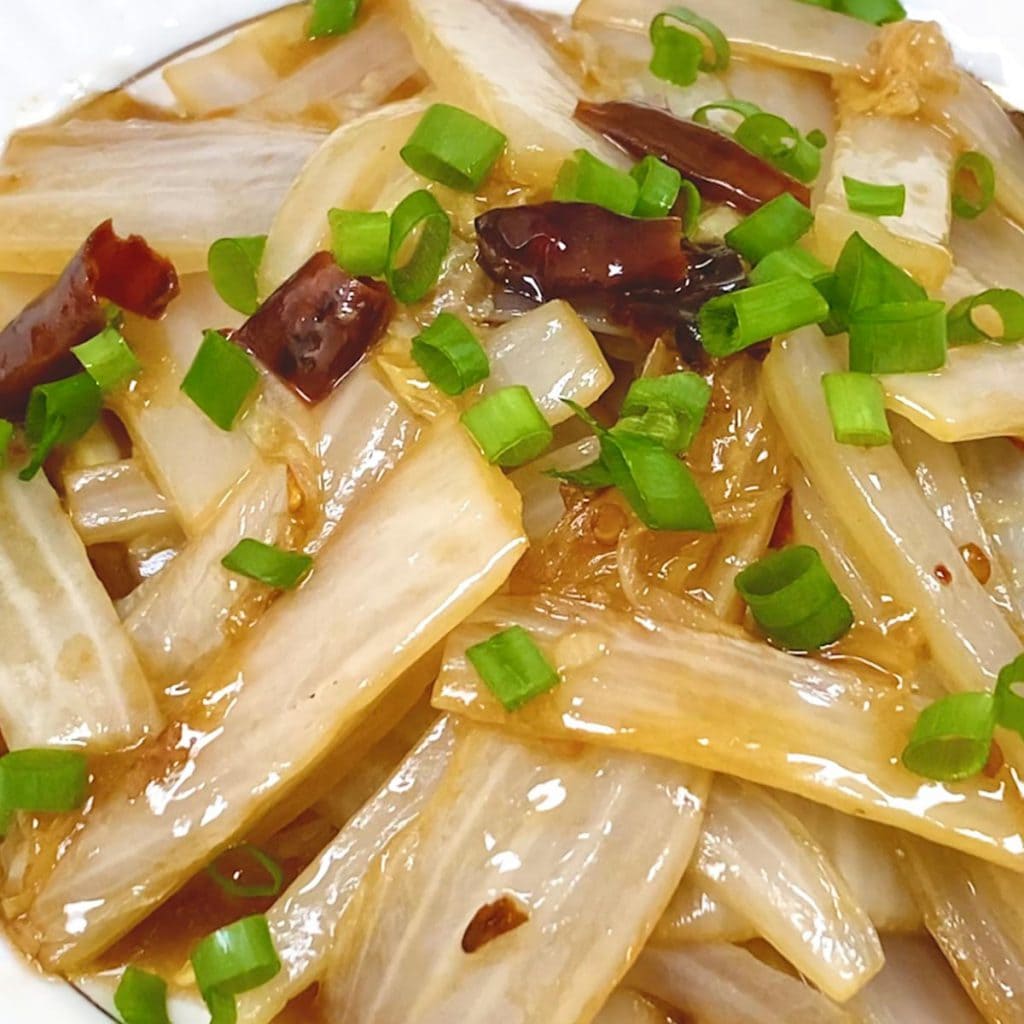 Napa cabbage is one of our favorite vegetables. It has a mild flavor and can be easily fit in a lot of dishes!
The dish that we are introducing to you today, is a flavorful quick stir fry dish. Ideally, you can use the cabbage stalk only for the recipe, and the stalk will act as a sponge to absorb all of the nice flavors!
The leafy part can also be used for this recipe, just keep in mind that it will cook much quicker than the stalk. So you can add the leafy part 30 seconds later after cooking the stalk.
---
---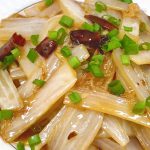 Print Recipe
Stir-Fried Napa Cabbage with Hot & Sour Sauce | Sichuan Style
A saucy cabbage dish that has so much flavor!
Ingredients
4

cup

napa cabbage

3

clove

garlic

5

dried chili pepper

You can adjust the number of peppers depending on how spicy you like; if you don't have any dried pepper, the fresh ones also work fine, such as jalapenos or any kind.
Sauce
½

tbsp

soy sauce

½

tbsp

black vinegar

½

tbsp

oyster sauce

a

pinch

salt

a

pinch

sugar
Instructions
Chop the cabbage stalk into long slices and tear the leafy part into small pieces. Roughly chop some garlic and dried chili peppers into small pieces.

For the sauce, add half tbsp of soy sauce, half tbsp of black vinegar, half tbsp of oyster sauce, a pinch of salt, a splash of sugar into a bowl, mix well. To thicken the sauce during the cooking process, add half tbsp. of corn starch, and 1 tbsp of water. Mix well until the corn starch is dissolved.

In a skillet, heat up a spoonful of oil with the chili peppers at low heat, and let it slowly release the aroma. (Be careful not to let it burn, otherwise, it will turn black and become bitter)

Add the garlic into the skillet. Once you can smell the garlicky flavor, add in the cabbage. Mix them well and cover them up with the lid. With the lid cover-up, it can help the cabbage cook more quickly.

Open the lid and stir occasionally, cook until the stalk becomes tender. Pour in the sauce and mix everything well. Serve it on a plate and garnish it with some spring onion. Enjoy!
Nutrition
---
———
Bear Cusine is a participant in the Amazon Services LLC Associates Program. These links are affiliated. If you purchase through them, I will make a couple of cents to a couple of dollars. But that won't affect your prices at all.