Today, we would like to share one of our favorite summer vegetables with you – sweet potato leaves.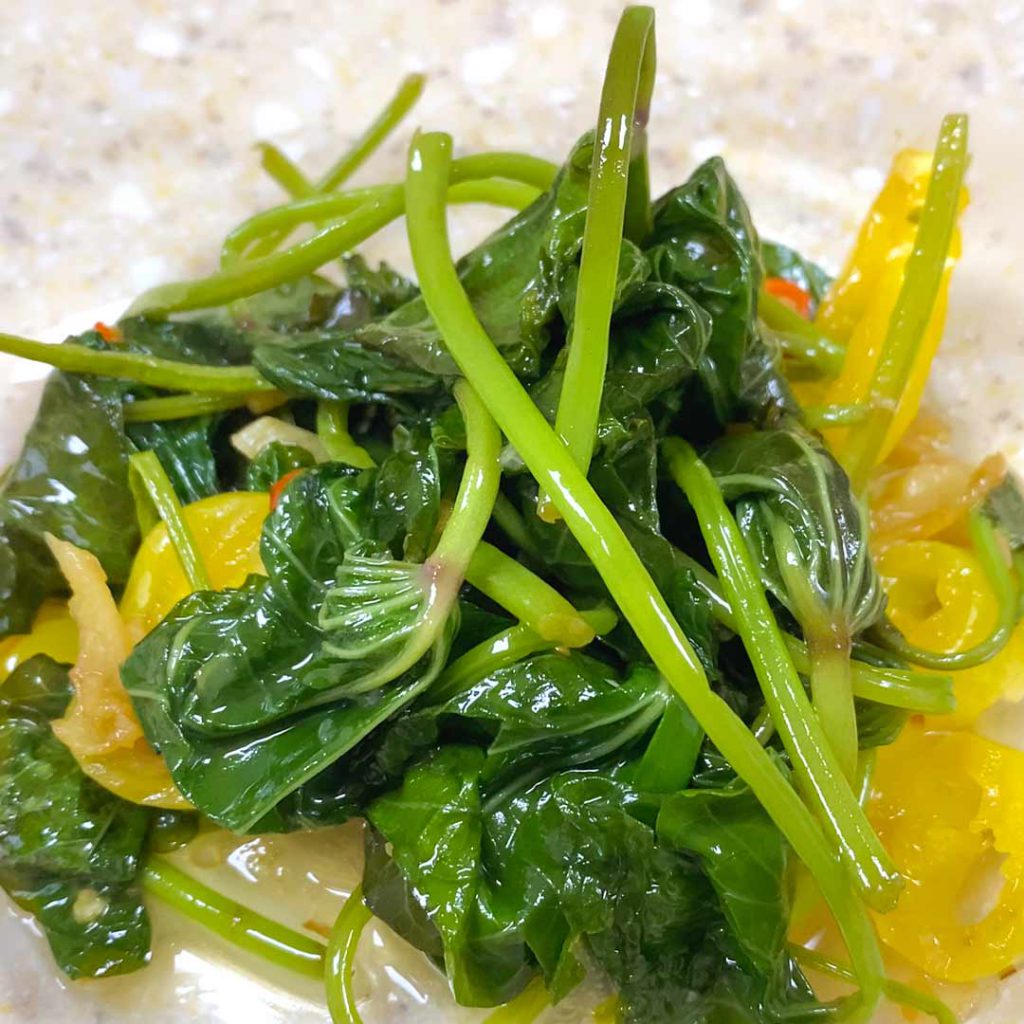 If you're not from an Asian background, it's likely that you've never had the opportunity to try the leafy part of a sweet potato plant. In this article, we're excited to introduce you to the wonderful world of sweet potato leaves.
The benefit of having sweet potato leaves in your garden
Sweet potato leaves have an earthy flavor with a hint of sweetness. They are a staple food in many Asian and African cultures and are often used as leafy green vegetable.
Sweet potato leaves are high in nutrients such as vitamin A, vitamin C, vitamin K, calcium, iron, and fiber. They also have antioxidants and phytochemicals, which can help boost the immune system and protect against disease.
Some studies have shown that sweet potato leaves may have a protective effect on the kidneys, helping to reduce inflammation and oxidative stress.
---
---
Where to buy sweet potato leaves?
Unfortunately, sweet potato leaves are not commonly found in grocery stores in the US. However, they can be found in many Asian markets.
If you live in a rural area, like us, you can easily grow them in your own garden. You will need to buy a sweet potato plant and take care of it, ensuring it gets enough water and sunlight. Once the plant is mature enough, it will start producing leaves that you can harvest and use.
When should I plant sweet potatoes?
Sweet potato plants are normally planted in the spring after the last frost, and the leaves are ready for harvest two to three months later, usually during the summer.
Unlike many other leafy greens, which struggle in the heat of summer, sweet potato leaves thrive. Plant them in a sunny location and you will watch them grow quickly.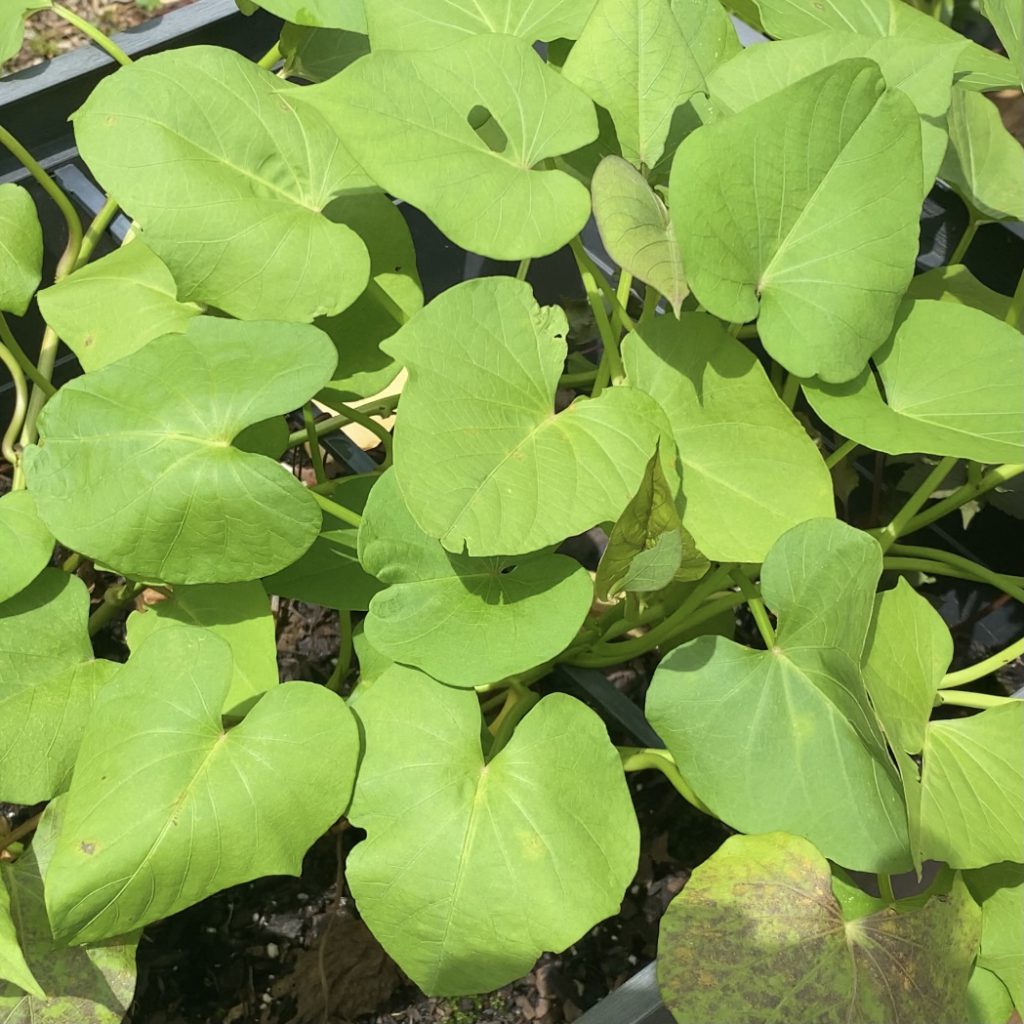 Here are some perks of growing sweet potato leaves in your garden:
Low maintenance


Sweet potatoes are considered to be an easy crop to grow and they don't require much labor or maintenance. For us, we only water them when it hasn't rained in a while to keep the leaves from drying out.

Pest-resistant


The good news is that these leaves don't appeal to bugs, making them a great option for organic gardening.
We have never had any significant pest problems with them. It is because sweet potato leaves contain saponins, which have been shown to repel certain insects. They also contain other chemical compounds, such as alkaloids and flavonoids, that can act as natural insecticides. These compounds can also keep insects and other pests away from the plant, protecting it from damage.

Long harvest time


As long as the weather is warm, they can be harvested throughout the growing season. You can periodically harvest the leaves and bury the stems in the ground during this time. They'll start growing more leaves and you can harvest them again in a few of weeks.
---
Check out this whole process on YouTube!
---
How to Grow Sweet Potato Leaves?
In spring, we put a sweet potato in a half cup of water and let it sit for a few weeks. In the end, it started to grow and there were some new roots coming out. After that, we planted the entire sweet potato in the soil.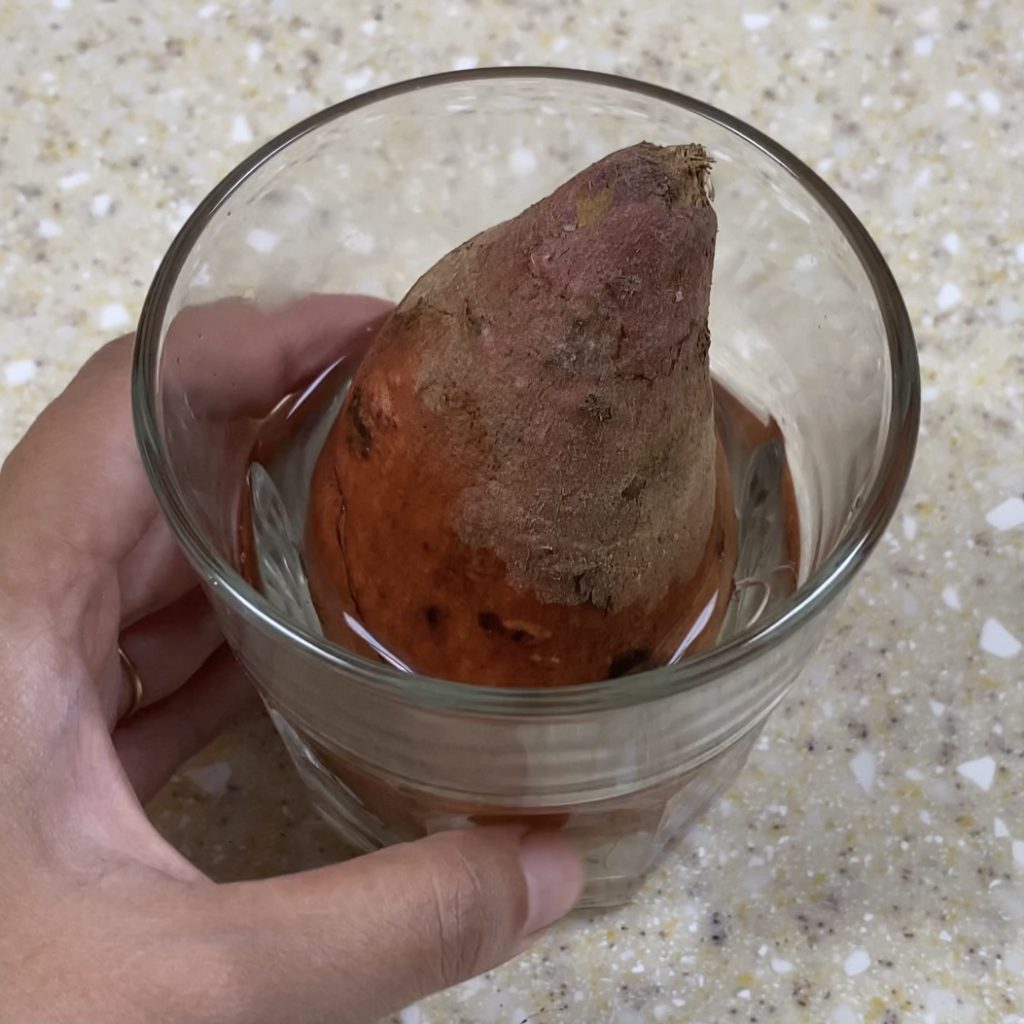 The first sets of vines grew in just one month. We trimmed the vines that were attached to the "mother" sweet potato so that we can harvest more baby sweet potatoes in the future. The new tubers will grow beneath these vines in the future. Because this "mother" sweet potato would eventually rot in the ground, we had to discard it.
To help these vines preserve energy and save it for root growth, we also removed the majority of their leaves. We then buried the vines in the soil. A few weeks later, they continued to grow more leaves and the size doubled. During the warm summer months, the plants develop at a rapid rate. Within a few weeks, you will be able to harvest the leaves!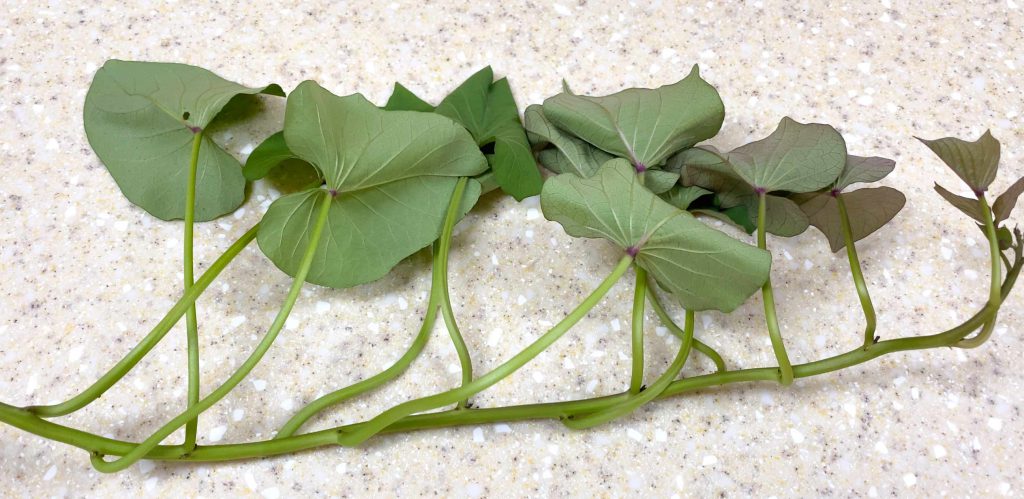 To harvest, just cut off the leaves, the young stems can be included and they are edible. For older stems, you can peal off the outside skin (like asparagus) and only keep the inside, it will be tender to eat. Check out the Q&A section below for detailed info.
Alternatively, you may cut the vines off completely and then pull off each stem individually. Then bury the vines in the soil.
Wash the leaves with water to get rid of any dust before cooking. One of our favorite ways to consume these leaves is to sauté them with garlic. Here is the recipe for the spicy and sour stir-fried sweet potato leaves.
---
---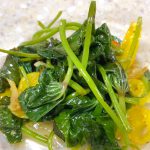 Print Recipe
Sweet Potato Leaves Stir Fry – Spicy & Sour Version
If you've never had the leafy part from the sweet potato plant before, this recipe is a must-try! Not only does it tastes so great, but it is packed with nutrition.
Ingredients
2

cup

sweet potato leaves

1

tbsp

canola oil

2

clove

garlic

3

chili pepper, chopped

1

tbsp

pickled banana pepper

1

tbsp

oyster sauce

salt
Instructions
Heat up a pan at medium-high heat with oil, add the minced garlic in. For the spicy and sour version, add 1 tbsp of pickled banana peppers and chili peppers (the quantity is depending on how you spicy you want the dish to be)

Sautee them and once you can smell the aroma, add the sweet potato leaves in. Gently mix it so that the garlic won't burn at the bottom. Cover with the lid and let it simmer for about 15 seconds.

Then stir well, add about 3 tbsp of water with some oyster sauce, add salt to taste, and it is done! Enjoy
Nutrition
Next time you see them in an Asian grocery store, give them a try! Or you can buy a few sweet potatoes and start growing your own.
---
---
Harvest
In the picture below you can see all of the sweet potatoes we harvested at the end of the season. Every single one of them originated from that one "mother" sweet potato that was shown in the photo above (10+ sweet potato babies!)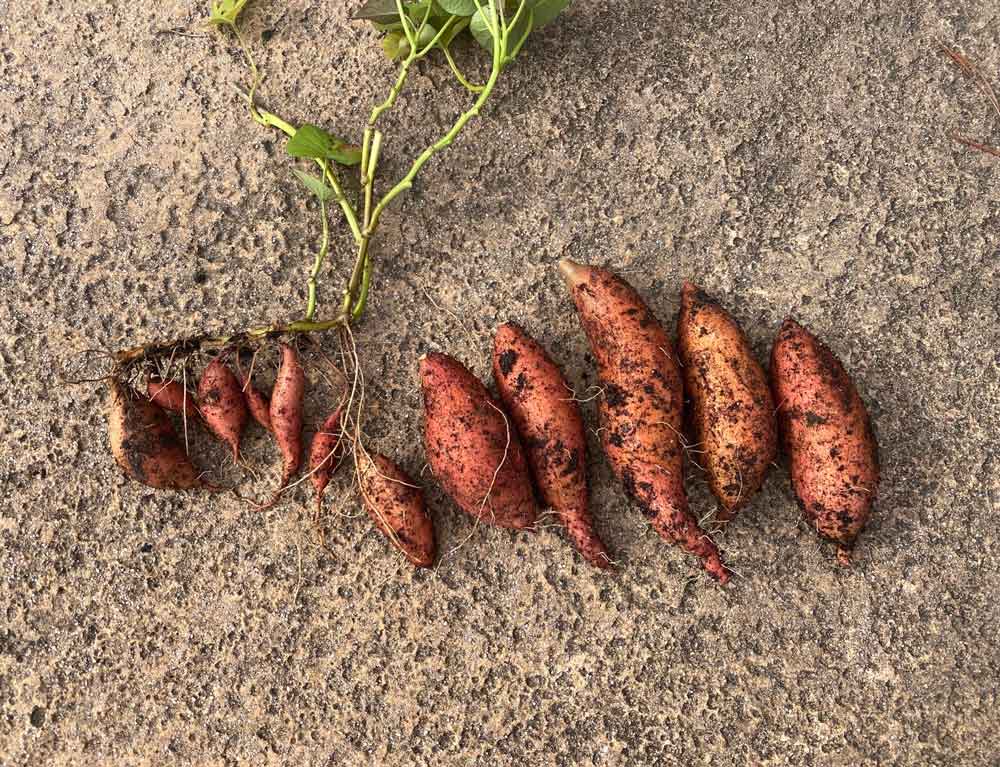 We were so surprised to see that there are so many sweet potatoes buried under the soil. The digging process was a lot of fun and yielded many interesting discoveries. Our first attempt at planting sweet potatoes was quite successful.
Scroll down to read the updates from one year later ⬇️
---
---
One Year Later Update – Aug 2022
We moved into our new home at the beginning of this year. We didn't plan to grow sweet potatoes because our yard is smaller now (In reality, I bought a nice-looking sweet potato in March, and planned to grow it🤫😅 However I haven't soaked it in the water like before, and that potato never sprouted… anyway, we don't have much space yet so I gave up the plan…)
We have moved our old plants to the new house, together with the old soil as well. Maybe because there was a mini sweet potato tuber hidden in the soil, some sweet potato leaves showed up unexpectedly! It was a really cool thing to find out. We were so glad to see that it is still alive and coming back. It made it through the North Florida winter.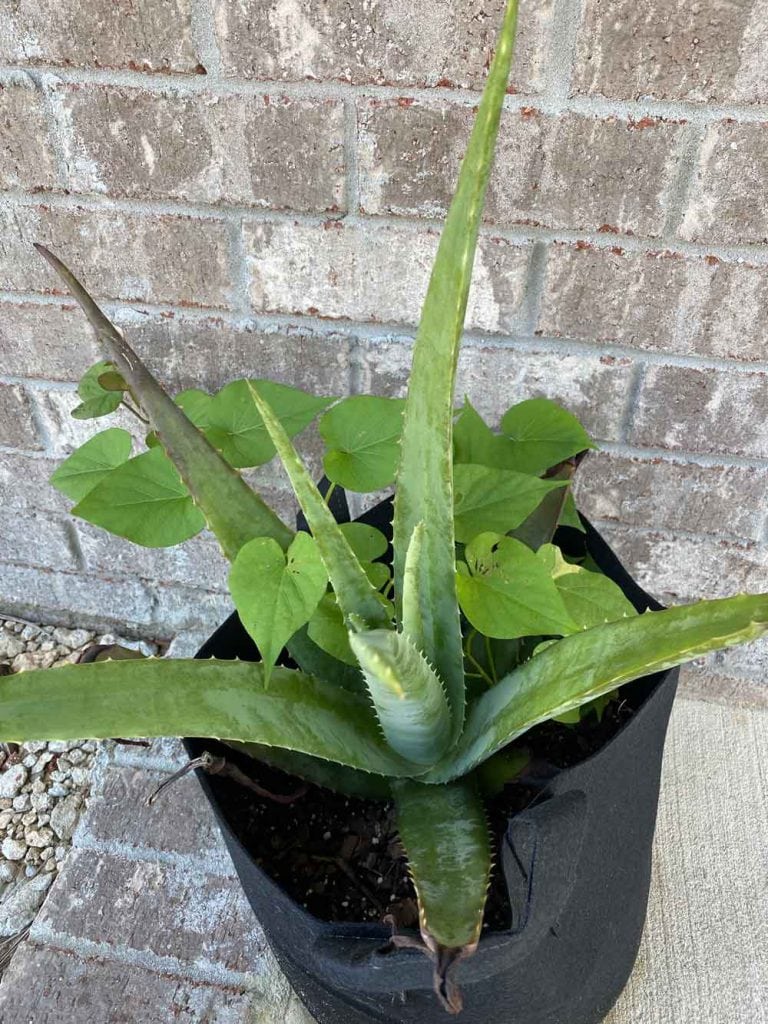 ---
---
FAQ
What is the recommended quantity of sweet potato leaves for a stir-fry dish?
Considering them like spinach! Raw, they are voluminous. But once it's cooked, they shrink rapidly. We typically use three cups of leaves per serving.
Can you grow sweet potato leaves from their stems?
Yes! If you can find sweet potato leaves in grocery stores, you can use them to cultivate sweet potatoes tuber and leaves. Trim down the leaves and bury the stem in the soil. New leaves will come out and they should be ready in a few weeks.
When is the best time to plant sweet potatoes?
If you start planting them in the spring, you can expect a harvest by Thanksgiving. They're the total opposite of potato plants(which are like cold weather). In addition, the sweet potato's leaves thrive in the summer heat, while most other green leafy vegetables struggle.
Is it necessary to remove the tough outer skin from the stems of the sweet potato before cooking?
It depends on whether the stem is still young. You can bend the stems to determine if they can be broken easily. The younger it is, the easier it is to break.
If the leaves and stem are fresh from the garden, you can cook them right away. The skin will add a crunchy texture to the dish.
If they keep growing and get old, the skin on the outside will be hard to chew. It's kind of like the woody bottom of an asparagus stalk. Before cooking, you can peel off and throw away the outer skin to make it more tender.
---
———
Bear Cusine is a participant in the Amazon Services LLC Associates Program. These links are affiliated. If you purchase through them, I will make a couple of cents to a couple of dollars. But that won't affect your prices at all. This is not a sponsored video.