Lasagna is a classic Italian dish made of layers of pasta, meat or vegetables, and cheese. It's a warm, filling meal that's great for feeding a lot of people and can be easily customized to suit your tastes.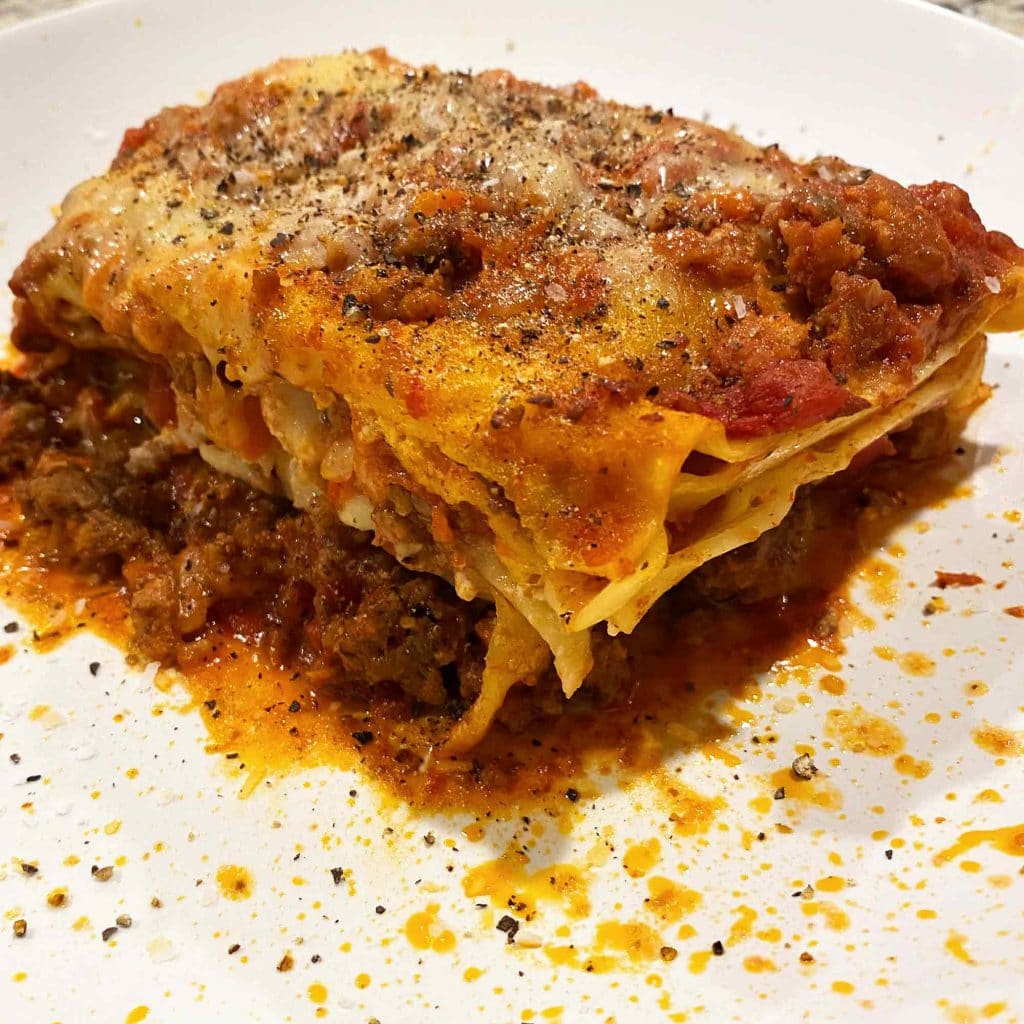 There are many different lasagna recipes available on the internet; we tried several before settling on this one. This recipe calls for a lot of aromatic and high-quality ingredients, which is why this lasagna tastes so good.
Key Ingredients
The recipe calls for ground beef and ground pork in the tomato sauce, which adds depth of flavor and makes the dish more hearty and satisfying.
The recipe also includes fresh tomato slices, which add texture and freshness to the dish.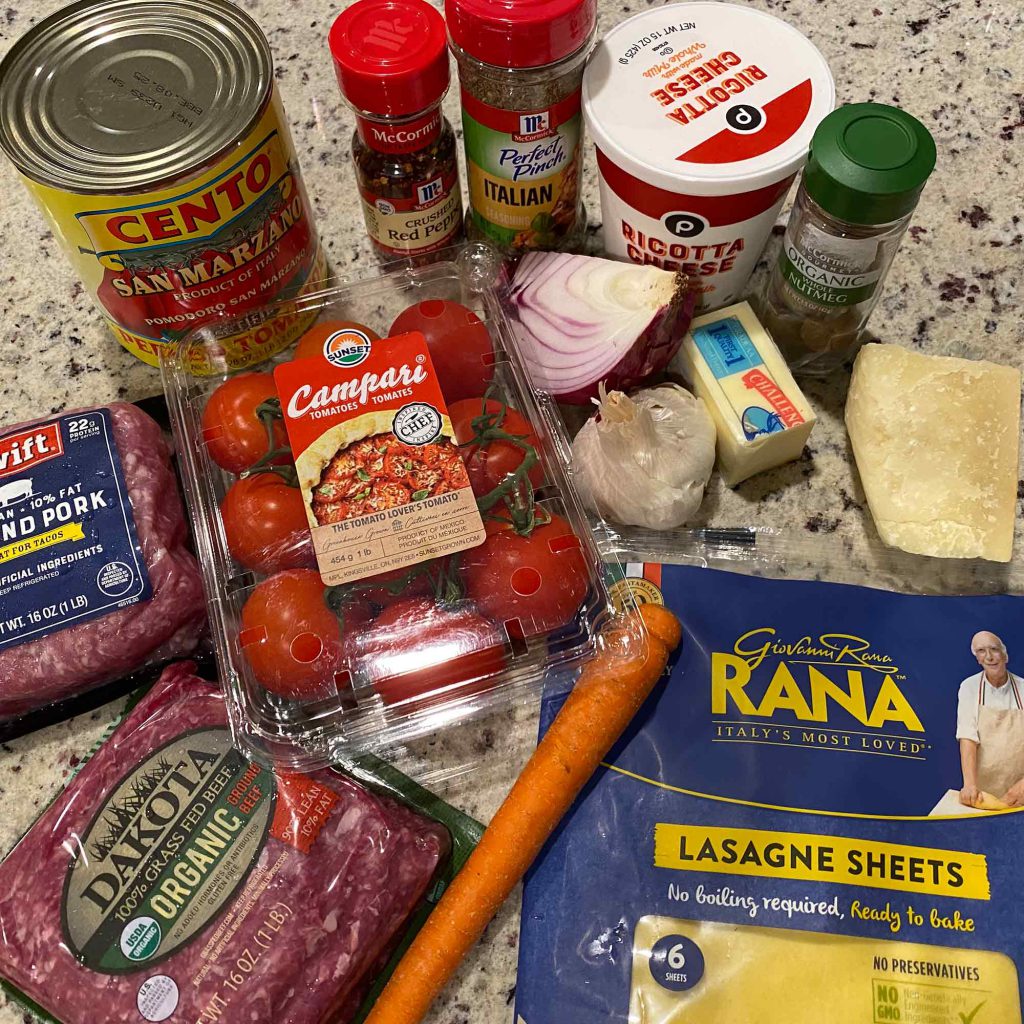 Tomato sauce
The type of tomatoes you use in the tomato sauce can make a big difference in how the dish tastes. In this recipe, we used San Marzano tomatoes, which will add depth of flavor and make it a truly standout meal.
San Marzano tomatoes are a type of plum tomato that is grown in Campania, Italy. They have a meaty texture and less water than other types of tomatoes, which makes them perfect for making a flavorful sauce and elevating your sauce to the next level.
Also, San Marzano tomatoes are usually more expensive than other kinds of tomatoes, so using them in your lasagna may make it feel like a more luxurious and special meal.
In this video, Ethan explained really well which type of tomato sauce you should use.
Ricotta or bechamel?
Both ricotta cheese and bechamel sauce can be used in lasagna; it just depends on what you like best.
Ricotta cheese is commonly used in American-style lasagna and it gives the dish a creamy texture; Bechamel sauce is a classic French sauce, also known as "white sauce", it is often used in European-style lasagna to add richness to the dish.
That being said, it is important to note that there is no one "right" way to make lasagna. Different people and different parts of the world have their own tastes and ways of making the dish. We like to put both ricotta cheese and bechamel sauce in our lasagna. This way, all of the great flavors and textures of these two ingredients come together.
Protein
In this recipe, ground beef and ground pork are added to the tomato sauce. This gives the dish more depth of flavor and makes it heartier and more filling.
Fresh tomatoes
I also like to add fresh tomato slices to the lasagna layer, which gives the dish a nice texture and a fresh taste.
---
---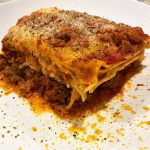 Print Recipe
Homemade Lasagna
A classic comfort food that's easy to make at home.
Ingredients
lasagne sheet

ricotta cheese

freshly grated nutmeg

mozarella cheese
Sauce
1

lb

ground beef

1

lb

ground pork

1

can

San Marzano tomato

28oz, peeled tomato

¼

carrot

diced

1

onion

diced

3

clove

garlic

diced
Aromatic spice
Italian seasoning mix

black pepper
Bechamel Sauce
4

tbsp

butter

4

tbsp

all purpose flour

2

cup

milk

parmasan cheese
Instructions
Preheat your oven to 350°F (180°C).

In a large saucepan, brown 1/2 pound of ground beef and 1/2 pound of ground pork over medium heat. Remove all excess fat. Add the onion, garlic, and carrot dice to the pan and continue cooking for 5 minutes. Add a pinch of salt, pepper, and Italian seasoning, you can also add a small amount of red pepper flakes here. Then add the whole can of San Marzano tomato into the pot. Allow the sauce to simmer for approximately 15 minutes, then use spatula to break the tomatoes. Simmer for another 10 minutes while we prepare the bechamel sauce.

In a separate saucepan, melt four tablespoons of butter over medium heat. Add 4 tablespoons of all-purpose flour and cook, stirring constantly, for 1-2 minutes until the mixture is bubbly and golden. Slowly add two cups of milk while continuously whisking to prevent lumps. Reduce the heat to low and cook, stirring frequently, until the sauce is thick and smooth. Season with salt and a pinch of freshly grated nutmeg.

We use a fresh lasagna sheet here so there is no need to cook. If you are using the dry type, cook the lasagna noodles according to the package instructions. Drain and set aside.

Spread a layer of tomato sauce in the bottom of a 9×13-inch baking dish. Add a layer of cooked lasagna noodles, followed by a layer of bechamel sauce, fresh tomato slices, and the ricotta mixture. Repeat until all of the ingredients are used. Finishing with a layer of mozzarella and parmesan on the top.

Cover the dish with foil and bake for 30 minutes. Then, remove the foil and bake for an additional 15 minutes, or until the cheese is brown. Let the lasagna cool for a few minutes before slicing and serving. Enjoy!
Nutrition