This christmas lima bean chili is perfect for a cold winter day. The mix of creamy beans, tender pork, and flavorful vegetables makes for a hearty and fulfilling meal.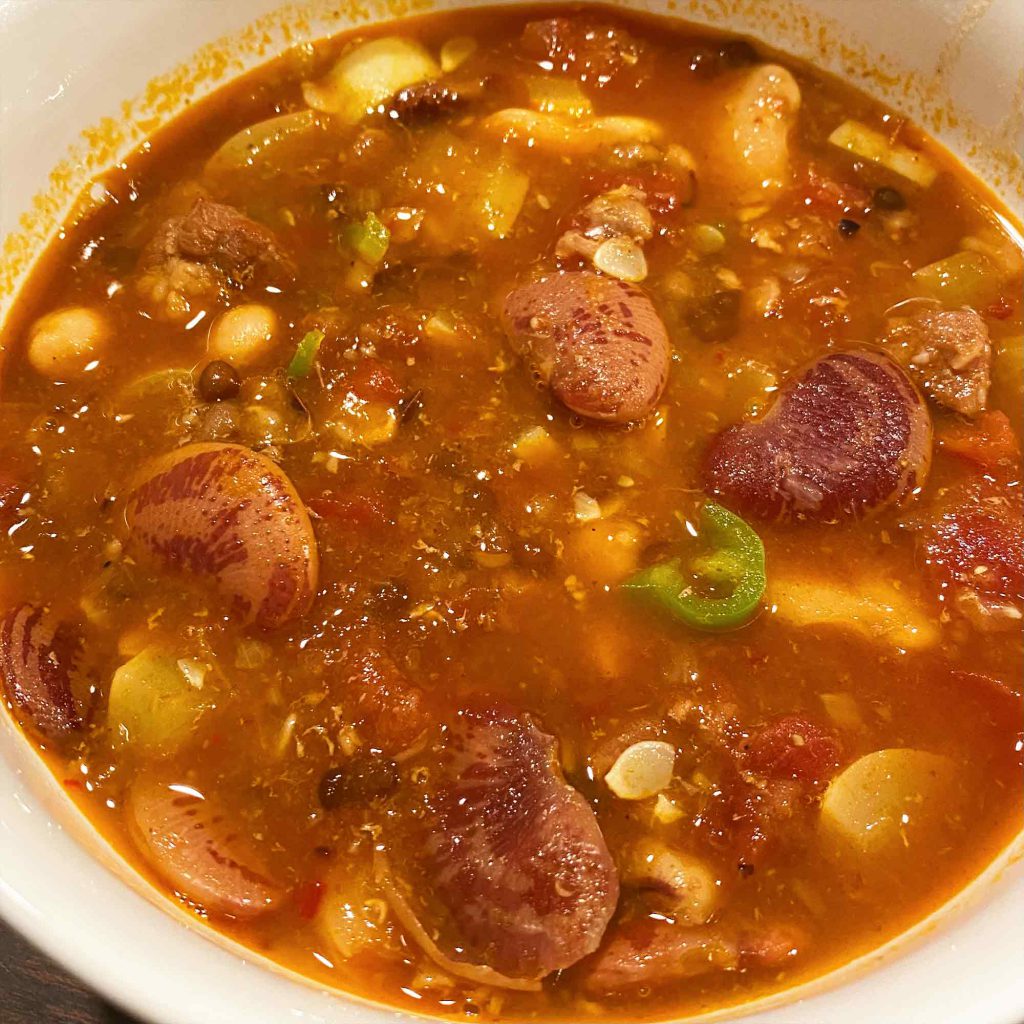 What is Christmas lima beans taste like?
Christmas lima beans are a type of lima bean that is larger and has a firmer texture than other varieties. They are slightly sweet and nutty in flavor. They are often used in dishes like soups, stews, and chili. When cooked, they tend to hold their shape well and do not become as mushy as other types of beans.
Although it does not commonly seen in most grocery stores, some specialty food stores had them and you can easily find them online. If you never had Christmas lima beans before, it is a good time to try them out with this recipe!
For this recipe, we also added some other beans and lentils that are stored in our pantry for a varied taste.
Protein
We're using cubed pork shoulder in this recipe, which becomes incredibly tender and soft after 30 minutes in the instant pot. You can also use ground beef or ground turkey instead.
Spices
As for the spices, cumin, black pepper, and dried chili flakes are used to achieve the desired level of heat.
Why grinding your own spices is a good idea?
There are several benefits of roasting and grinding your own spices.
Many spices have essential oils that give them their unique tastes and smells. When using them in cooking and baking, it gives the dishes so much depth and complexity.
For the pre-ground spice, the essential oils can evaporate over time, causing them to lose their flavor. By roasting and grinding your own spices, you can make sure they are fresh and at their peak flavorful.
Therefore, we highly recommend that you roast and grind your own spices because they will taste way better than the store pre-ground kind.
---
---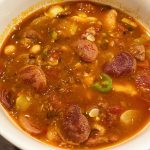 Print Recipe
Christmas Lima Bean Chili
A hearty and flavorful chili for the winter
Equipment
Instant pot or other types of pressure cooker
Ingredients
1

pound

pork shoulder

cut into small chunks

1

cup

Christmas lima beans

soaked and drained

½

cup

beans or lentils

on your preference

½

onion

diced

3

cloves

garlic

minced

1

yellow squash

diced, or can substitute with other veggies

1

can

tomato paste

6oz

1

can

diced tomato

14.5oz

3

bay leaves
Spices
2

tbsp

cumin seeds

1

tbsp

black pepper

3

dried chili
Instructions
Heat up an empty pan over medium heat, add the spices, and roast for about 2 minutes or until release the aroma. Make sure not to burn the spices. Then grind the spices.

Add ½ gallon of water into a saucepan and bring to a boil. Briefly cook the pork in the boiling water and drain it out. (This step will help remove impurities, such as blood, from the surface of the meat and will make the chili taste better)

Turn on the Instant pot in sautee mode for about 1 minute. When the pot is hot, add a tbsp of oil and the diced onion in. Sautee until the onion becomes translucent. Add minced garlic, tomato paste, and ground spices in and stir for another 1 minute. Add the drained lima beans and other beans you preferred to the pot, together with a can of diced tomato. Stir to combine.

Add enough water to the pot to cover the ingredients by about 1 inch. Cook for 30 minutes and let the cooker naturally release the pressure (for about 20 minutes)

Add the squash chunks and green pepper, and stir well. Cover the lid and resume the pressure cooker for another 2 minutes, naturally release pressure for about 5 minutes or until you can open the lid.

Serve hot and top with items like shredded cheese, sour cream, green onions, or whatever else you like. Enjoy!
Nutrition