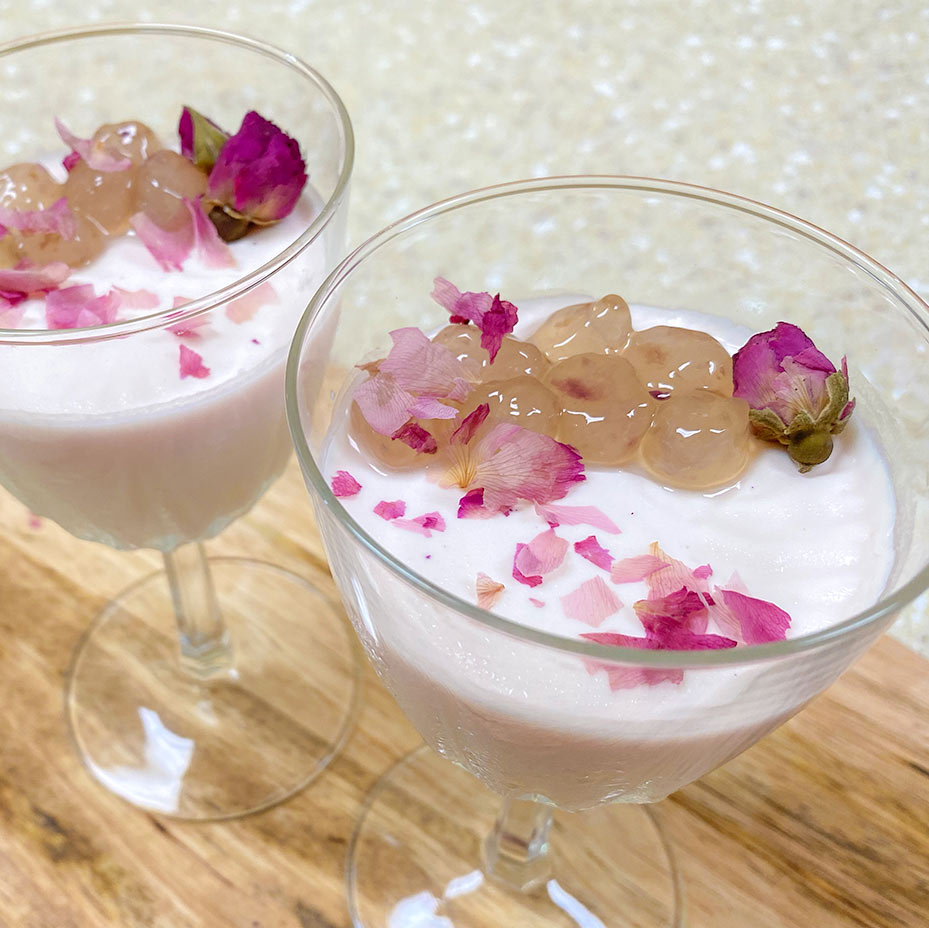 This rose panna cotta is a very delicate dessert rich in floral flavor. Within a few simples steps, this dessert can be so easily done!
---
---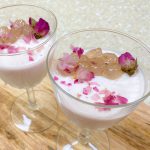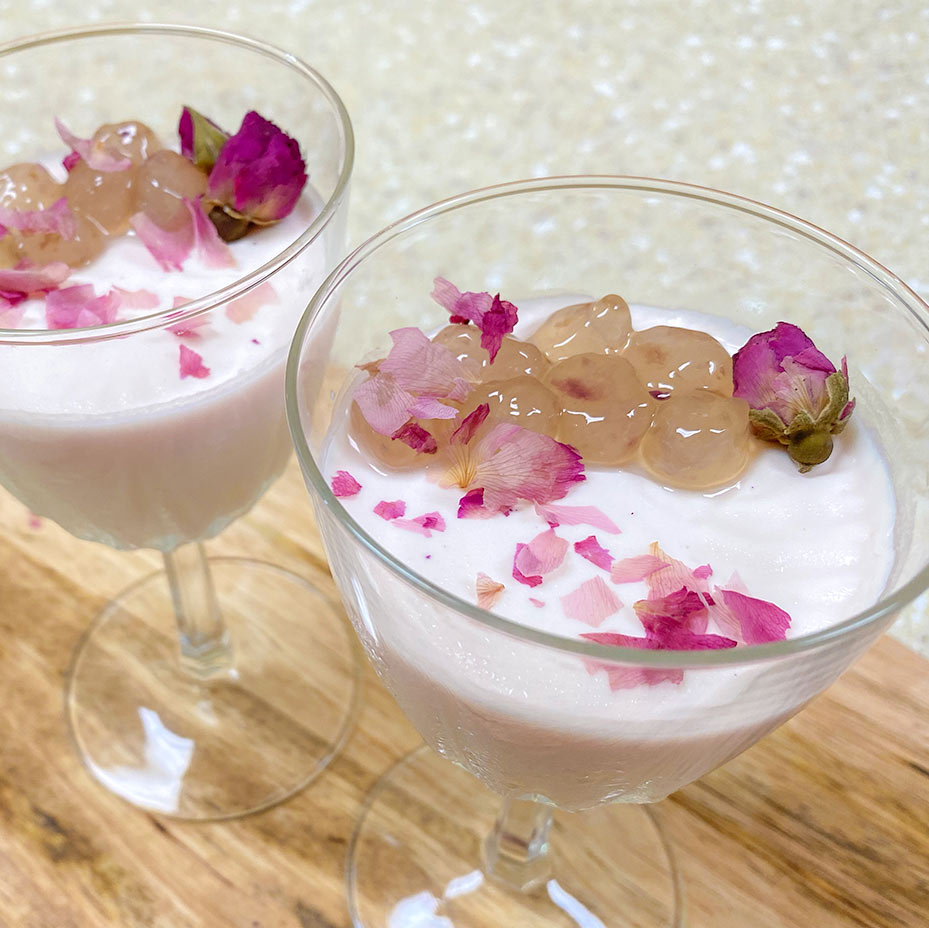 Print Recipe
Rose Panna Cotta
A delicate rose dessert full of floral flavor! Decorated with rose tapioca pearl.
Ingredients
Panna cotta
1/4

cup

Edible rosebuds

1

cup

Milk

1

cup

Cream

2

tbsp

Sugar

2

sheets

Gelatin sheet
[optional] Rose tapioca pearl for decoration
1/2

cup

Tapioca flour 

1/2

cup

Water

2

tbsp

Sugar

2

tbsp

Rose petal
Instructions
Panna Cotta
Preparation (1 day ahead) Soak ¼ cup of rosebuds in the milk and cream mixture overnight. Cover with a plastic film and let it sit in the fridge overnight.

The next day, soak 2 gelatin sheets in cold water for 5 minutes. Take the cream out of the fridge, drain the flowers out, and then warm it in a saucepan. Add 2 tbsp of sugar, mix well. Warm the cream until it is about to boil. Take the gelatin sheets out and squeeze the excess water. Add them into the warm cream, mix well.

Transfer the cream into the dessert serving cups. Keep the cream in the fridge for 3 hours until it stabilizes. 
Decoration – Color
You can use some pink food coloring to decorate the panna cotta, so it will be more rose-like. If you don't have food coloring, you can boil some fruit rinds instead to get the pink color (such as dragon fruit, peach…). See the video for more details.
Decoration – Rose tapioca pearls
Tear some rose petals into small pieces. In a saucepan, heat up ½ cup of water with 2 tbsp of sugar. When it boils vigorously, add into the tapioca flour. Mix well with the rose petals.

Knead the dough and separate it into several pieces. Roll each of them into long rod-like pieces, and then cut them into small pieces. Use your palms to roll these small pieces into balls. Sprinkle with tapioca flour to prevent them from sticking to each other.

Boil some water, and cook the tapioca pearls for 15 minutes over medium heat. Then turn off the heat, cover with the lid and simmer for 5 minutes. Drain the water out and add 2 tbsp of sugar to prevent the tapioca pearl from sticking. And now it is ready to use for the dessert.
Nutrition
FAQ
Can I use gelatin powder instead in this recipe?
Yes! In that case, the quantity will be slightly different. For one gelatin sheet, it equals 1 tsp of powdered gelatin (2.3g). For every tsp of gelatin, bloom in 1 tbsp water.
If you have other questions, feel free to leave us a comment below!
---
---
———
Bear Cusine is a participant in the Amazon Services LLC Associates Program
These links are affiliated. If you purchase through them, I will make a couple of cents to a couple of dollars. But that won't affect your prices at all. This is not a sponsored video.
Similar Recipes