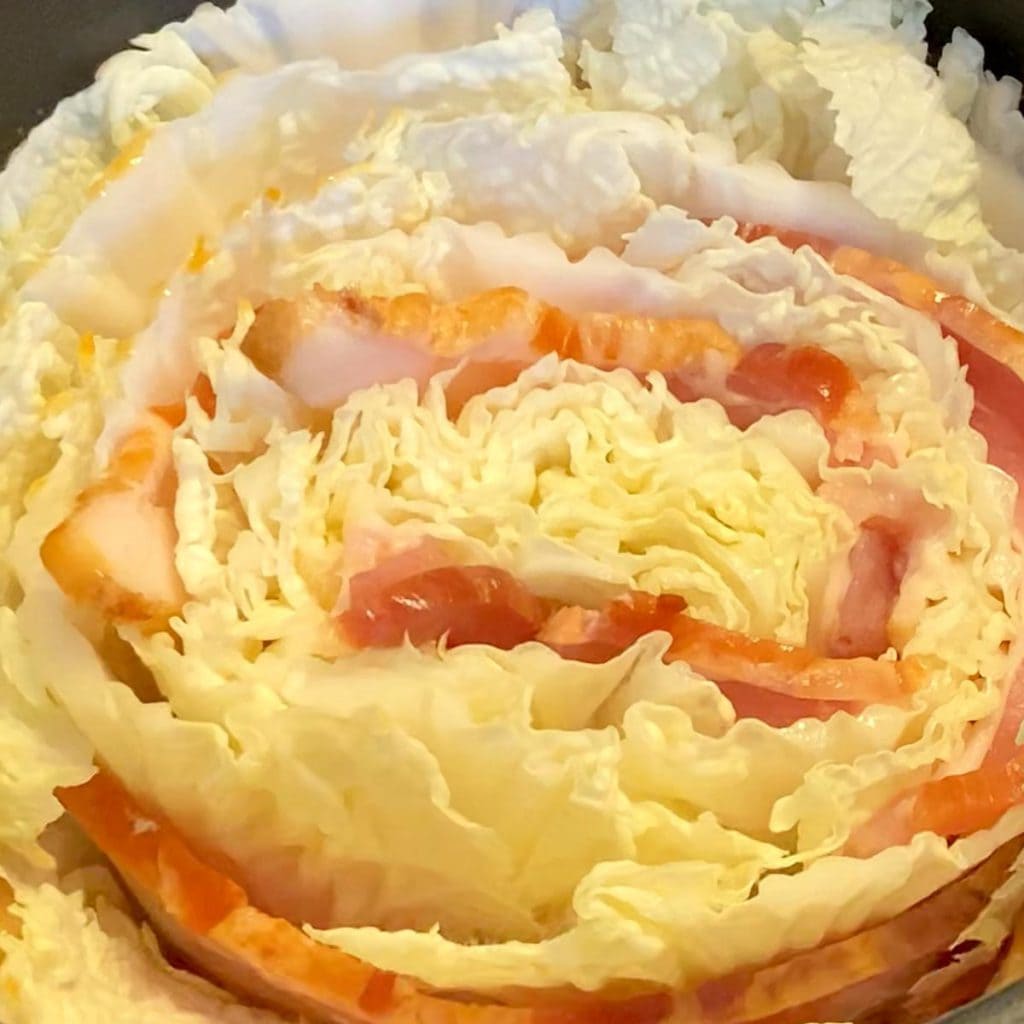 This is the second part of our napa cabbage recipes. We will use the middle section of the cabbage, where are the leaves meet the stalk.
If you cut off a napa cabbage horizontally into 3 sections, the middle section would be a nice circle. In this recipe, we will stuff bacon slices in between the cabbage, together they make it a perfect combination!
---
---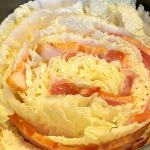 Print Recipe
Napa Cabbage Bacon Stew
A stew dish that is so flavorful and well-balanced, a perfect pair with rice.
Ingredients
1/3

napa cabbage

Chop a whole napa cabbage horizontally into 3 sections and use only the middle section.

10

slices

bacon

3

tomatoes

1

tbsp

canola oil

garlic

1

tbsp

ketchup

It might sound strange to add ketchup here, but trust me it will bring the dish to the next level.

salt
Instructions
Before start cooking for the cabbage stew, let's prepare a tomato sauce that goes really well with this combination! Dice 3 tomatoes into small pieces. Roughly chop off a few cloves of garlic.

Heat up a pot at medium heat, add 1 tbsp of canola oil and garlic. Once you can smell the nice flavor from the garlic, squeeze a spoonful of ketchup into the pan and mix well.

Add in the chopped tomato, together with a pinch of salt, stir well. Cover with the lid, turn the heat to low, and let it cook for about 5 minutes.

While the sauce is heating up, it is time to prepare the cabbage. Place the cabbage in a bowl, and then stuff the bacon in between the cabbage slices.

5 minutes later, take out half of the tomato sauce from the pot. And then add the cabbage and bacon in. Once the cabbage is set, add the tomato sauce on the top of the cabbage. Spread well on the surface. Cover up the lid and let it cook for 15 minutes. And enjoy!
Nutrition
---
———
Bear Cusine is a participant in the Amazon Services LLC Associates Program. These links are affiliated. If you purchase through them, I will make a couple of cents to a couple of dollars. But that won't affect your prices at all.