Today we would like to share with you one of our favorite fried rice recipes. It is ideal for a busy weeknight and ready in 15 minutes!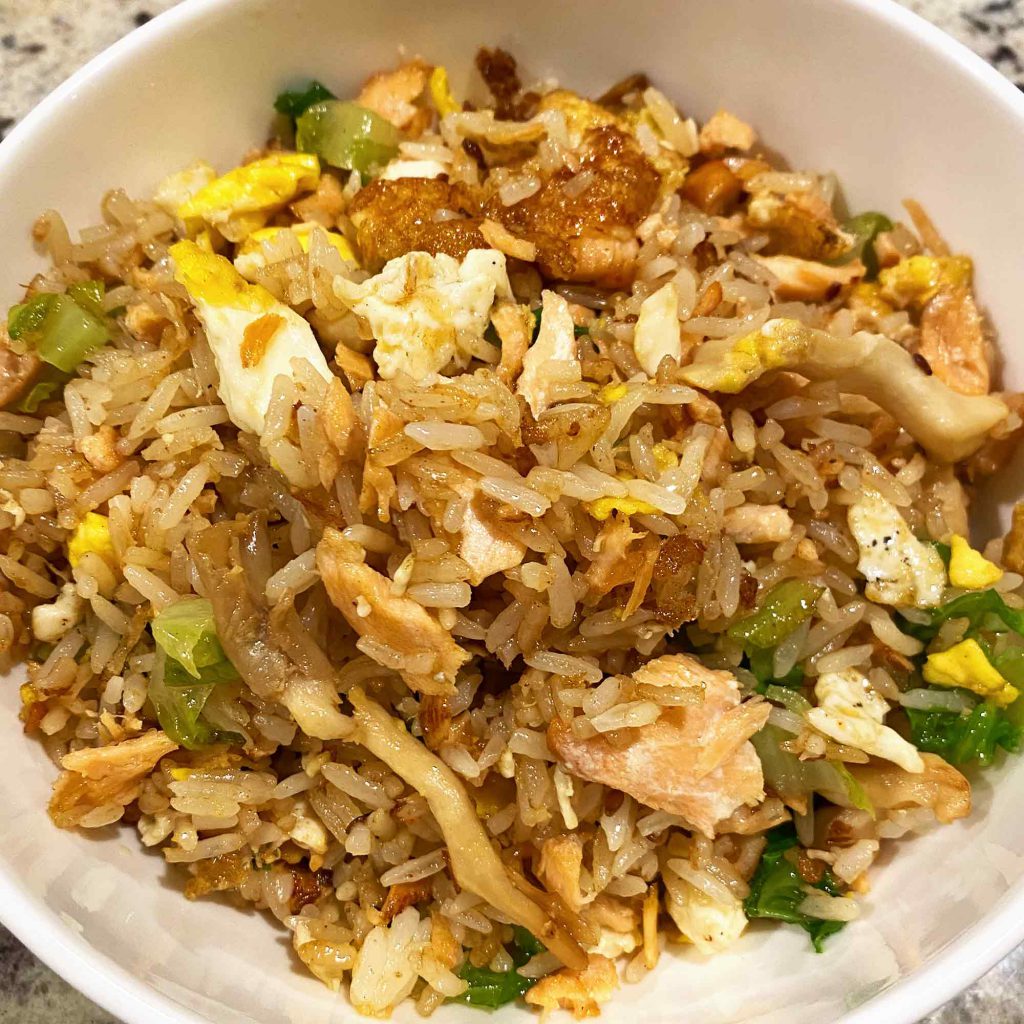 This salmon fried rice recipe is a delicious and easy way to use up leftover rice and turn it into a hearty and satisfying meal. The dish is excellent for a quick dinner for two.
We published a healthy kimchi fried rice recipe in the past. Check it out here.
This recipe is also a healthy meal. Here are the reasons:
One bowl of rice for two servings
Despite the fact that this recipe only calls for one bowl of rice, it yields enough food for two belly fulls. Compared to traditional fried rice or Chinese takeout, our version has far more protein. Not only does it reduce calories, but it is also flavorful. You will still enjoy the satisfaction of chewy rice without the excess carbohydrates.

A high-protein dish
Salmon and eggs make this dish protein-rich. It is a good choice for ensuring your daily protein intake. The salmon offers an umami flavor to the dish, while the browned portion adds a crispy texture. The eggs, a typical component of fried rice, give this dish a delicious and appealing aroma.

Leftover rice
Leftover rice is usually a little bit drier than freshly cooked rice, which can make it easier to stir-fry and keep the fried rice from getting too wet or sticky. It is also chewier, which can make fried rice more interesting and enjoyable.
Overall, this recipe is a quick and easy way to turn leftover rice into a delicious and satisfying meal. It's packed with protein, low in carbs, and has a unique and satisfying chewy texture. This salmon fried rice recipe is perfect for a quick dinner for two.
---
---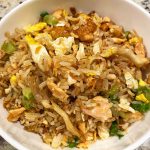 Print Recipe
Salmon Fried Rice
A easy salmon fried rice recipe for two, ready in 15 minutes.
Ingredients
1

bowl

leftover rice

2

tbsp

neutral oil

2

eggs

2

salmon fillets

thrawed

2

clove

garlic

minced

1

cup

shredded lettuce

1

tbsp

soy sauce

1

tbsp

oyster sauce

1

tbsp

sesame oil

salt and pepper to taste
Instructions
Marinade the salmon with salt and pepper for 5 minutes. Or you can marinate them in the teriyaki sauce.

Heat up a wok over high heat until it become very hot (but not smoke yet). Turn the heat to low and add 2 tbsp of neutral oil. Add salmon fillet and cook for about 3 minutes on one side or until it browned, flip to another side and put it to the side of the wok.

Crack 2 eggs into the wok and use the spatula to break the yolk so it will cook more evenly. Try not to stir for about 2 minutes until the bottom side is brown. Then mix with the salmon. You can use the spatula to break the salmon and egg into small pieces.

Turn the heat to high. Add the minced garlic and the leftover rice to the pan, and stir to combine with the salmon and egg. Keep stir fry the rice for about 1 minute until the rice is hot. Add the shredded lettuce to the pan and stir to combine. Cook until the lettuce is wilted.

Stir in the soy sauce and oyster sauce. Add salt to taste. Turn off the heat and add 1 tbsp of sesame oil, stir to combine. Serve the fried rice hot and enjoy!
Nutrition