This hand-pulled chicken is a refreshing summer treat. It does not require any complicated technique; simply pull the chicken and thoroughly mix it with the sauce!
Hand-pulled chicken is a popular Chinese recipe. But unlike pulled pork, which has a smokey bbq flavor, this pulled chicken has an umami dynamic flavor! It's savory, tasty, and wonderful.
I grew up eating a lot of this dish. When my mother does not feel like cooking that night, she would pick up this pulled chicken from a vendor inside the farmer's market on her way home. This meal is so aromatic and delicious that it always seems like a special meal for us!
This meal is often served cold, making it ideal for a hot summer night dinner. With the crunchiness of the roasted peanut and the fragrant herbs (cilantro and scallion), each bite is just excellent!
Living in the United States for several years, this is one of my favorite dishes to make when I miss home.
Two Chicken Methods: from scratch & from rotisserie chicken
Cooking from raw chicken
When cooking this dish at home, you can use chicken thighs or chicken breast. The thigh is a tender alternative, while the breast is a lower-calorie option. Simply marinate the chicken in salt and sesame oil for flavor before steaming for 10 minutes. Once the internal temperature reaches 165ºF, it is done!
Cooking from a rotisserie chicken
This approach is perfect for rotisserie chicken from the store.
In our household, we usually only eat the dark meat part of a rotisserie chicken, because the white meat is so flavorless and boring. This pulled chicken dish is a terrific way to transform these plain breast parts into something tasty. Compared to cooking from a raw chicken, using a rotisserie chicken allows you to skip the cooking process and have it ready to pull!
Feel free to check out this recipe on YouTube. In this video, we show you 2 ways to prepare: using raw chicken and a rotisserie chicken.
Tips: How to check if the chicken is cooked without a thermometer?
It usually takes 10-15 minutes for the chicken to steam over high heat. If you don't have a thermometer, stab the chicken with a fork to see if there is any liquid running out. It has been thoroughly cooked if there is no liquid. Allow the chicken to cool a bit before handling.
---
---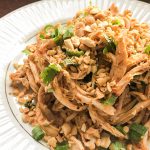 Print Recipe
Hand-pulled chicken
A perfect chicken cold dish that is full of flavor!
Ingredients
1

lb

chicken breast or chicken thigh

For the chicken, you can use chicken breast or thigh for this recipe.

2

tbsp

roasted peanut

crushed

cilantro or scallion for garnishing
Sauce
2

tbsp

canola oil

5

cloves

garlic

1

tbsp

chili flakes

1

tbsp

roasted sesame seeds

1

tbsp

soy sauce

1

tbsp

oyster sauce

1

tsp

sugar

1

pinch

salt

2

tbsp

sesame oil
Instructions
If you are using a rotisserie chicken, please skip to step 2 . If you are starting with raw chicken, marinate the chicken with a pinch of salt and sesame oil. Steam the chicken over high heat for 10 minutes, until the internal temperature reaches 165ºF.

Shred the chicken with your hands into small pieces. Put them in a bowl for use later.

Chop the garlic, cilantro, and scallions into small pieces. Heat a pan with 2 tablespoons of oil and add the garlic. Sauté until the aroma of the garlic is released, then turn off the heat.

While the garlic oil is still hot, add 1 tablespoon of sesame seeds and 1 tablespoon of chili flakes. You can adjust the quantity depending on your desired level of spiciness. The residual heat will continue to infuse the fragrance of the sesame and chili flakes without burning them.

Transfer the infused oil into a bowl. After it cools down, add 1 tablespoon of soy sauce, 1 tablespoon of oyster sauce, and 1 teaspoon of sugar. Mix well. If you are using a rotisserie chicken earlier, you can also add 1 tablespoon of rotisserie chicken juice for extra flavor.

Pour the sauce over the chicken. Mix well and taste to see if it needs extra salt. Then add 2 tablespoons of sesame oil, cilantro, scallions, and 2 tablespoons of crushed peanuts. Mix well.

Transfer the chicken to a plate and it is now ready to serve. Enjoy!
Nutrition
---
———
Bear Cusine is a participant in the Amazon Services LLC Associates Program. These links are affiliated. If you purchase through them, I will make a couple of cents to a couple of dollars. But that won't affect your prices at all.