Today we're going to share one of our favorite curry recipes with you! This dish is delicious and quick to prepare, taking only 20 minutes.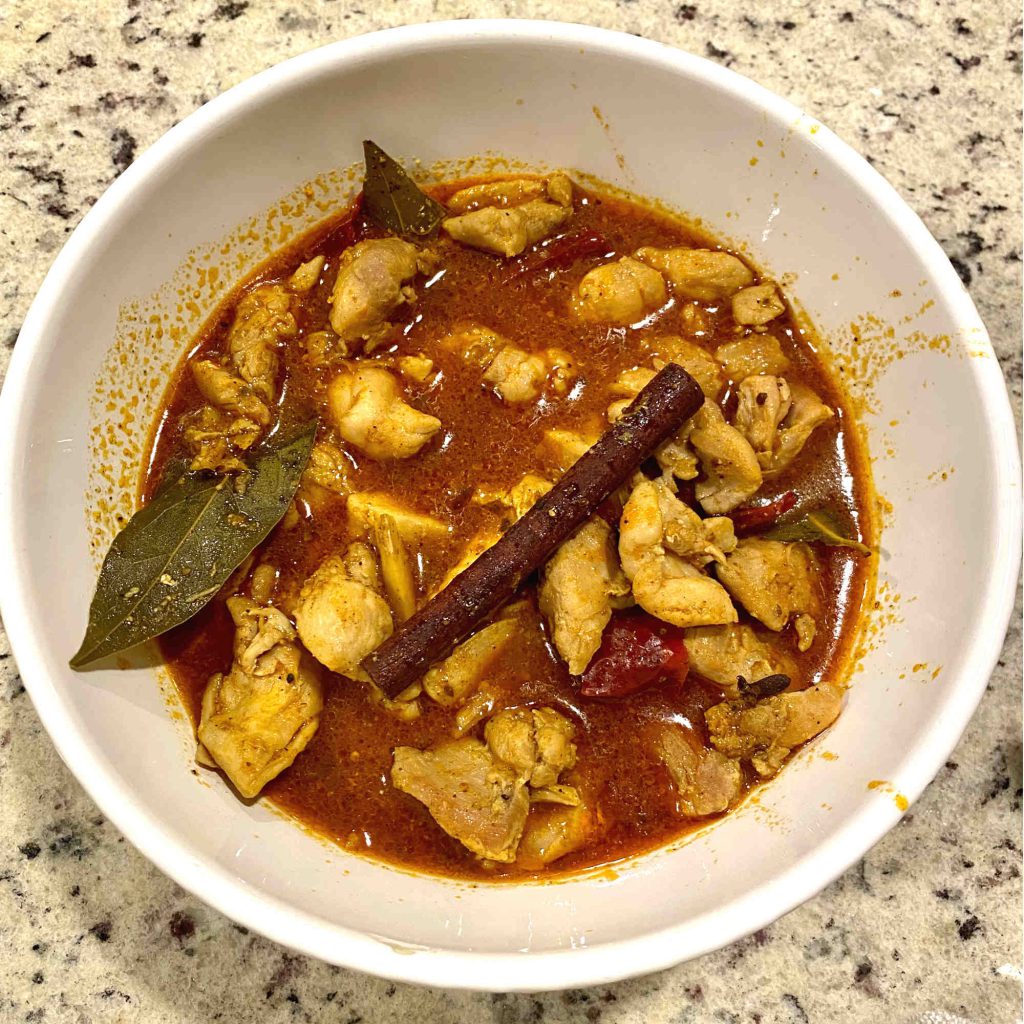 For a long time, I always thought Indian curry was a difficult dish to prepare. I used to imagine it would take a lot of skill and effort to make, and I was discouraged by the long list of exotic spices and ingredients that seemed unfamiliar to me.
However, after doing some research, I discovered that making Indian curry is actually much easier than I had previously thought.
Growing up in China, I discovered that many of the spices used in Indian dishes, such as cumin, coriander seed, bay leaves, and cinnamon, are also common ingredients in Chinese cooking. For me, this was a surprising discovery that made me appreciate the similarities between these two diverse and flavorful cuisines.
These spices add depth and complexity to dishes, taking them from good to truly exceptional.
The spices
To achieve a delicious flavor, we categorize the spices into three groups:
Toasted and Freshly Ground

:
Cumin seeds, coriander seeds, black pepper, and mustard seeds.
These spices are toasted in the pan until the aroma is released and then freshly ground. We bought a cheap coffee grounder just for grounding the spices.


Pan-Fried

:
Ginger, bay leaves, dried chili pepper, cinnamon, clove, and tomato paste.
These spices are pan-fried in a pan while cooking with the chicken. I also found out that using a wok to cook curry is quite convenient. You can brown the chicken thigh first, then push the chicken to the side, and it will have enough oil at the bottom of the pan to fry the spices, which will extract their flavor and aroma.


Add at the End

:
Turmeric powder, garam masala, and freshly ground spices are added at the end to give the dish a delicious, rich flavor.
The protein
We prefer chicken thighs for their tender texture, but you can use chicken breast, shrimp, or any other type of protein that you prefer.
Marinate your protein of choice in salt for about 10 minutes. We'll add more seasonings (the spices listed above) and cook together in the pan; so only the salt for the marinade will be enough.
The leftover
Whenever we had the curry with chicken the night before, it always had some leftovers since we cook a lot. The next day I like to add some shrimp when we heat it up. In this way, you will get a new, full-of-flavor dish within 5 minutes!
---
---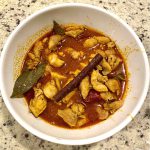 Print Recipe
Chicken Curry
A quick easy chicken dish that is full of flavor!
Ingredients
4

chicken thighs

2

tbsp

oil

1.5

cup

water

salt

to taste
Spice 1 – Toast & Ground
1

tbsp

cumin seeds

1

tbsp

coriander seeds

1

tbsp

black pepper

1

tbsp

mustard seeds
Spice 2 – Pan fry
1

inch

ginger

sliced

2

bay leaves

2

dried chili peppers

1

cinnamon stick

3

cloves

3

tbsp

tomato paste
Spice 3 – Add at the end
1

tsp

turmeric powder

2

tbsp

garam masala

toasted & ground "spice 1"
Instructions
Cut the chicken into small pieces. Marinade the chicken with a pinch of salt and set it aside for later use.

In a pan, toast the ingredient of "spice 1" over medium heat, until fragant. Grind the toasted spices in a spice grinder or with a mortar and pestle and set aside.

In the same pan, heat 2 tbsp oil over medium heat and add the chicken thighs. Brown for 5-7 minutes on each side, until golden. Push the chicken to the side and the "spice 2" ingredient, fry for 2-3 minutes until fragant.

Add 1.5 cups of water to the pan and season with salt to taste. Bring the mixture to a boil, then reduce the heat and cover. Simmer for 10-12 minutes.

Turn off the heat and add the "spice 3" together with the toasted and ground "spice 1" into the pan. Stir well. Serve the chicken curry hot with freshly cooked rice. Enjoy!
Nutrition
Overall, if you decide to give this recipe a try, don't forget to leave us a comment below! With the right ingredients and spices, you'll be surprised at how easy it is to make and how delicious it can be 🙂