Today we would like to share with you an easy-to-make noodle recipe that is ready in 15 minutes.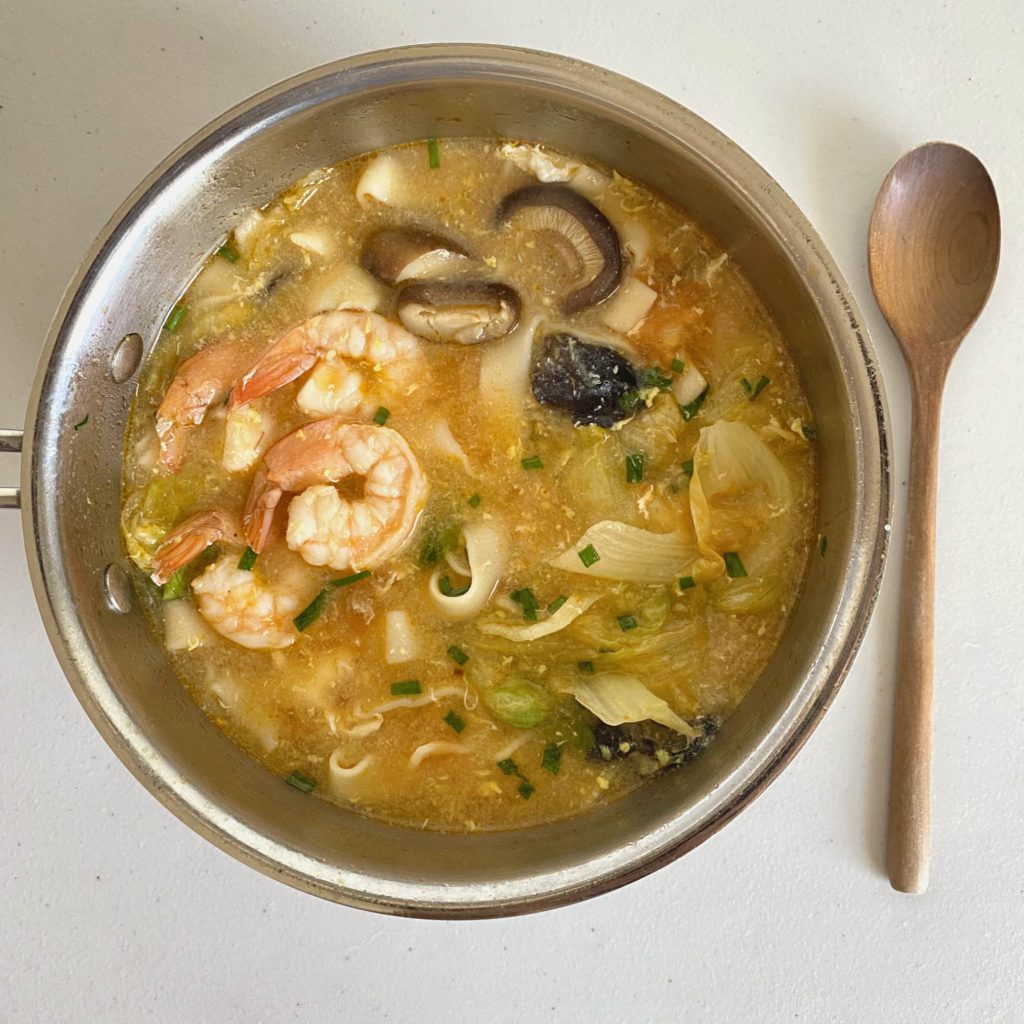 Noodles by themselves, are simple to prepare. Just place them in boiling water and cook for a couple of minutes, and they will be ready to eat. Except you will need more flavor for it. However, making broth can be a tough and time-consuming operation.
As a noodle lover, I understand the struggle of wanting a quick and delicious meal without spending hours on broth. That's why I've created a series of formulas that make it simple to make a flavorful broth in a fraction of the time.
I'm excited to share this collection of noodle recipes with you, the majority of which will require a little advanced preparation. (We will still include some more complicated recipes for those who want to spend extra time cooking and step up their noodle game!)
Today we're going to show you one of my favorite recipes: Tomato Shrimp Noodle Soup. This soup is simple to make, and the tomato-based broth is full of flavor. This recipe is also extremely adaptable, and you can easily substitute other ingredients to create your own unique version.
So, whether you're short on time or looking for a new way to enjoy your noodles, give this recipe a try sometime and see how simple and delicious homemade noodle soup can be!
---
---
The Benefit of Tomato Broth
Unlike traditional bone broth, which can take hours to make, this tomato soup is ready in a fraction of the time.
Tomatoes are an excellent ingredient for broth because they are high in flavor and nutrients.
They will add a rich and savory flavor to broth that complements other ingredients. 
To begin, cut the stem and score the skin of the tomato.  Place the whole tomato in a pot of boiling water. After a few minutes of cooking, the tomato skin should be very easy to peel. After removing the skin, crush the tomato with a spoon to release its delicious flavor.
The flavor of the tomato is now fully released into the broth. You will now have a quick and flavorful tomato base broth!
The Umami Flavor
In addition to the tomato, we added shiitake mushrooms, shrimp, and an egg to the broth. The shrimp also adds lean protein to the soup, making it a complete meal. The egg adds richness to the broth and it also serves as an additional protein source.
---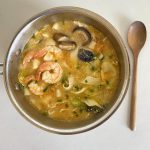 Print Recipe
Tomato Shrimp Noodle Soup
A hearty noodle soup full of umami flavor.
Ingredients
6

shrimp

it can be frozen

1

tomato

score the outside skin, but leave it as whole

1

shiitake mushroom

soaked, it can be frozen and ready to use anytime

1

egg

noodles

lettuces

salt
Optional ingredients
wood ear mushroom

oyster sauce

tomato paste
Instructions
Bring 3 cups of water to a boil and add a whole tomato in, with the skin scored. Also, add a few slices of shiitake mushroom and simmer the broth for 5 minutes. You can also add other ingredients that you like into the pot and cook them together.

Five minutes later, the tomato skin should be very easy to remove. Use a spoon to press the tomato and make it into several small pieces.

Add the shrimp in. The shrimp usually takes only 2 minutes to fully cook. If your noodle needs to be cooked longer, add the noodle first instead. (For example, the noodle I use only need 1 minute to cook. So I add the noodles 1 minute after I add the shrimp) Add the lettuce, stir well and turn off the heat.

For optimal results, you can cook the noodles and lettuce in another saucepan based on the instruction on the package. This will end up with a more tasty broth. You can also add "optimal ingredient" while simmering the broth in step 1 for extra flavor.