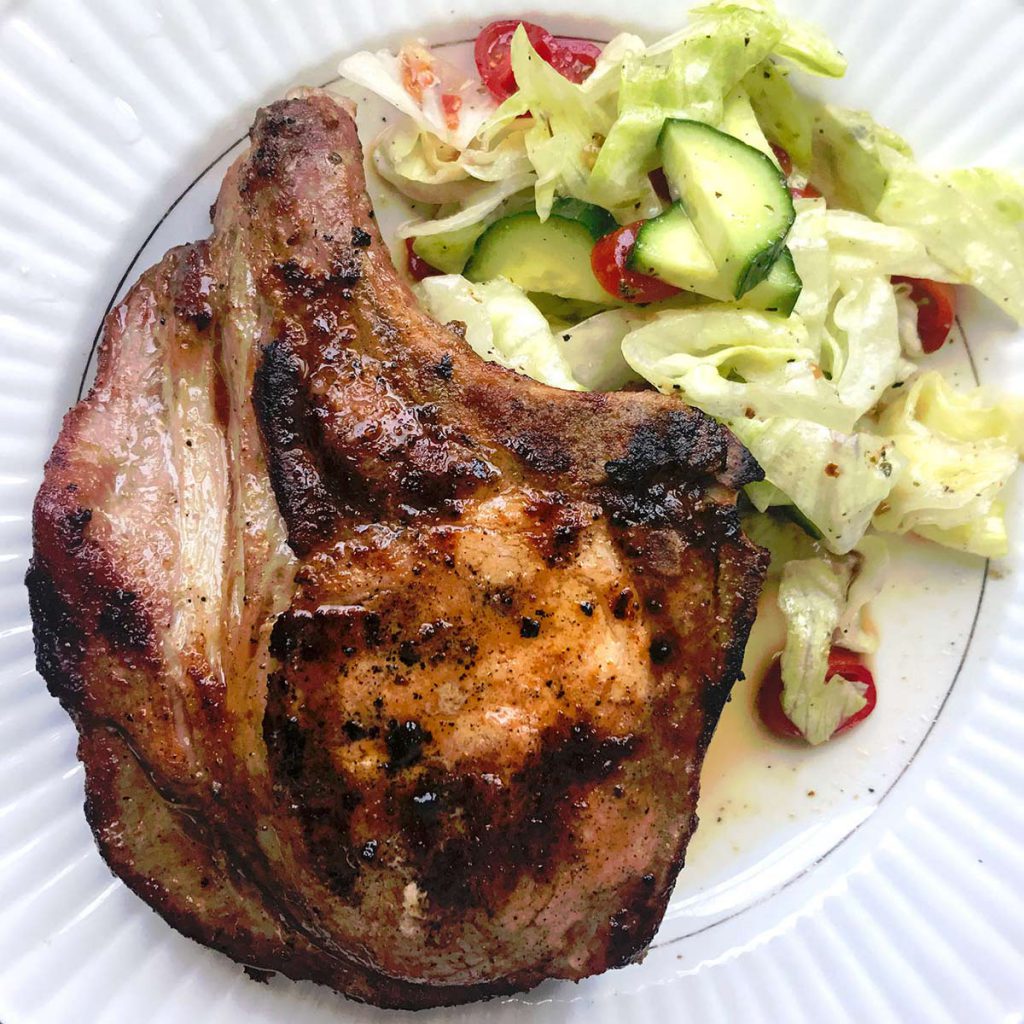 Compared to thin pork chops, I recently found out that thick pork chops are much better tasting and are easier to cook! It doesn't require very complicated steps, and it comes out as good as a juicy steak, but at a fraction of the price!
We would like to share with you this easy-to-make thick pork chop recipe and let us know how yours turns out!
---
---
Seasoning
– 2 tbsp of Cajun seasoning
– 2 tsp of garlic powder
– 2 tsp of onion powder
– 1 tsp of cayenne pepper
– 1 tsp of sugar
– 1 tsp of black pepper
– ½ tsp of salt
You can also switch to your favorite seasoning here.
Method 1 – Oven Baked Pork Chop
Preheat the oven at 400°F
Season all of the sides of pork chop, and let it rest for 30 minutes
Heat a cast iron pan and sear both sides of the pork chop for 5 minutes, then oven bake for about 15 minutes (1.5 inches thick pork chop), until the internal temperature reaches 145°F
Method 2 – Grilled pork chop
Heat the grill at 400°F.
Season all of the sides of pork chop, and let it rest for 30 minutes
After seasoning, use foil to wrap the pork chop. Toss the pork chop directly in the grill. Grill both side with foil for 5 minutes.
Take the pork out of the foil, grill both sides for 5 minutes.
Note:
As pork chop has a lot of lean parts, one of the biggest challenges to cook a pork chop is to not overcook and dry it out. Use a meat thermometer to determine if the pork is cooked. The National Pork Board recommends cooking chops to an internal temperature of 145°F.
Hope you enjoy this recipe!
---
———
Bear Cusine is a participant in the Amazon Services LLC Associates Program. These links are affiliated. If you purchase through them, I will make a couple of cents to a couple of dollars. But that won't affect your prices at all.