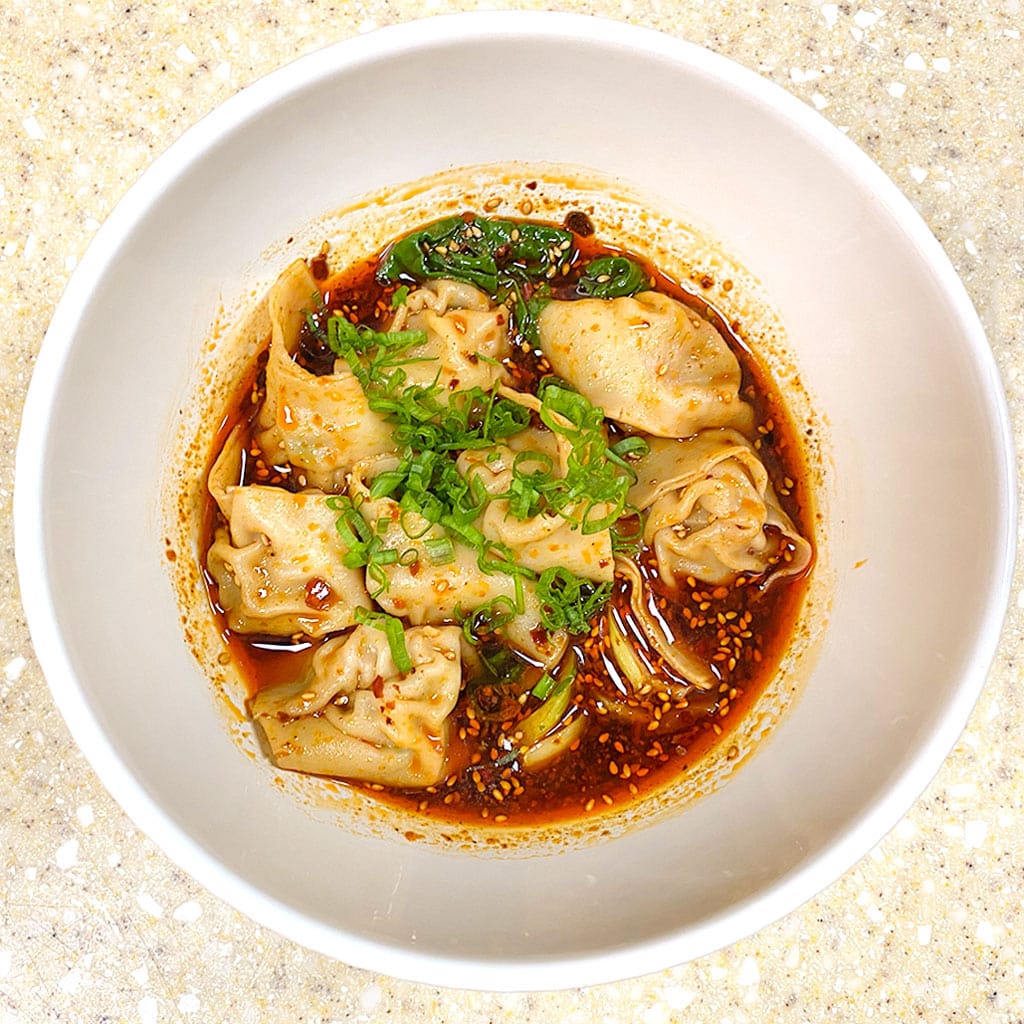 Spicy wonton is a super delicious comfort dish!
In the video, we will show you several ways to make wontons. It won't require complicated skills or ingredients. If you never make wonton at home, then give it a try! The results always turn out so great and much better than the take-out.
---
---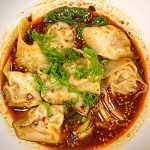 Print Recipe
Wonton in Chili Oil
This recipe is for making 100 wontons! Although 2 hours of preparing time seem long, once you prepared it, it is so easy to store in the freezer and cook anytime for later within 5 minutes!
Ingredients
Wonton Filling
1.5

pounds

ground pork

12

oz

shrimp

3

stalks

scallion

1

tsp

salt

1

tsp

white pepper

1

tsp

Chinese five-spice

1

tbsp

oyster sauce

1

tbsp

soy sauce

1

tbsp

sesame oil

1

egg

1

tbsp

Sichuan peppercorn

ginger
Spicy sauce
1

tbsp

oyster sauce

1

tbsp

soy sauce

1

tbsp

Chinese dark vinegar

1

tsp

white pepper

1~4

tbsp

chili oil

1~4 tbsp depends on spiciness level

sugar
Instructions
Juicy Pork & Shrimp Wonton Filling
Chop off the white part of the scallion, place in a container with a few slices of ginger, and 1 tbsp of Sichuan peppercorn. Add 1 cup of boiling hot water and soak for about 5 minutes. This spiced water will be used to marinade the pork filling.

Chop 12oz of shrimp into small pieces. Make sure the shrimp is fully deveined otherwise it will have an unpleasant flavor.

In a bowl, add 1.5 pounds of ground pork and chopped shrimp. To season this, add 1 tsp of salt, 1 tsp of white pepper, 1 tsp of Chinese five spices, 1 tbsp of oyster sauce, 1 tbsp of soy sauce, and 1 tbsp of sesame oil. Lastly, crack 1 egg into the bowl.

Drain the spiced water and add ⅓ cup to the pork mixture. Mix well until pork absorbs the water then add more. (I usually do it 3 times, which is adding ⅓ cup of water at a time.)

Once adding all of the water, mix it vigorously.

Add 2 tbsp of cornstarch to the filling, mix well. And then add some chopped scallion on the top, pour some hot oil over it and mix well until this scallion oil is fully absorbed.
Wrapping Wontons
Place a teaspoonful of filling in the center of the wrapper.

Dip your finger into water and wet the sides of the square. (The water here will work as glue and make the side stick together)

Fold it in half, and then wet one of the bottom corners, twist and stick together with another corner. (Please check out the video for more details)
Cooking Wontons
To cook wontons, boil some water in a pot and toss the wonton in. Gently stir and make sure the wontons won't stick to the bottom.

When the water boils again, add a cup of cold water so that the wonton can keep cooking while the skin won't break due to the high temperature.

Repeat this process twice. Once all of the wontons are floating, turn off the heat and drain out the water.

In a bowl, add 1 tbsp of oyster sauce, 1 tbsp of soy sauce, 1 tbsp of Chinese dark vinegar, a sprinkle of sugar, 1 tsp of white pepper, several tbsp of chili oil depends on how spicy you want it to be. I usually add 4 tbsp which is quite spicy.

Add the wontons into the sauce bowl, mix well, garnish with scallions. Enjoy!
Nutrition
---
FAQ
How to make chili oil?
To make the chili oil, the easiest way is just to add 2 tbsp Sichuan red chili powder to a bowl, with a pinch of salt, and pour 1/2 cup of hot oil in. Stir and mix well. Once it cools down it will be ready to use.

If you wanna be more flavorful, besides chili powder, you can also add some sesame seeds, scallion, and minced garlic to infuse the oil. 

For the more authentic way, you can add scallion, cilantro, Sichuan peppercorn, and star anise into the cold oil and heated up. Remove it when these ingredients turn brown. Then pour into the Sichuan red chili powder.

No matter which way that is listed above, it always tastes so great!

But you can also use the store-bought one, which I think this kind of oil is so hard to taste bad. So no matter each brand it will work.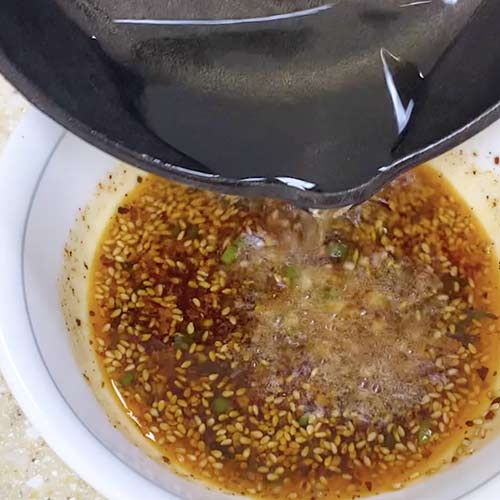 How to store wonton?
To store the wontons, lay them on a baking sheet with parchment paper, and then freeze for about 1 hour. Once it cools down, the surface will be dry and they won't stick to each other and can be easily stacked together and store in a bag.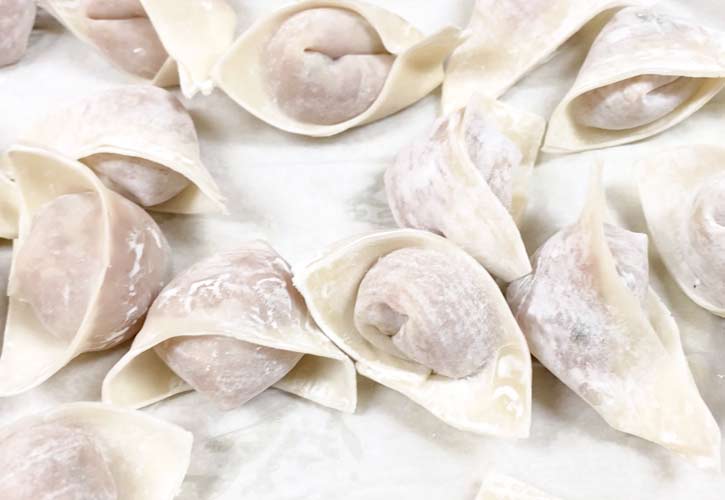 How to deal with extra wonton skin after using all of the fillings?
If you have extra skin left, you can cover it up, and place them in the freezer. Save them for the next time.
How to deal with extra wonton fillings?
If you have extra filling, just toss them on the skillet and it can be used for taco meat later!
Compared to using minced ginger directly, Why using spiced water for the marinade?
When it comes to the ginger or Sichuan peppercorn, they do bring excellent flavor to the dish but it may not that pleasant to eat them directly. With the spiced water, it can bring out this flavor without worrying about eating a big chunk of ginger!
If you have other questions, feel free to leave us a comment below!
---
---
———
Bear Cusine is a participant in the Amazon Services LLC Associates Program
These links are affiliated. If you purchase through them, I will make a couple of cents to a couple of dollars. But that won't affect your prices at all. This is not a sponsored video.