Today we would like to share with you a delicious pumpkin quinoa bowl, which is perfectly fit for the fall!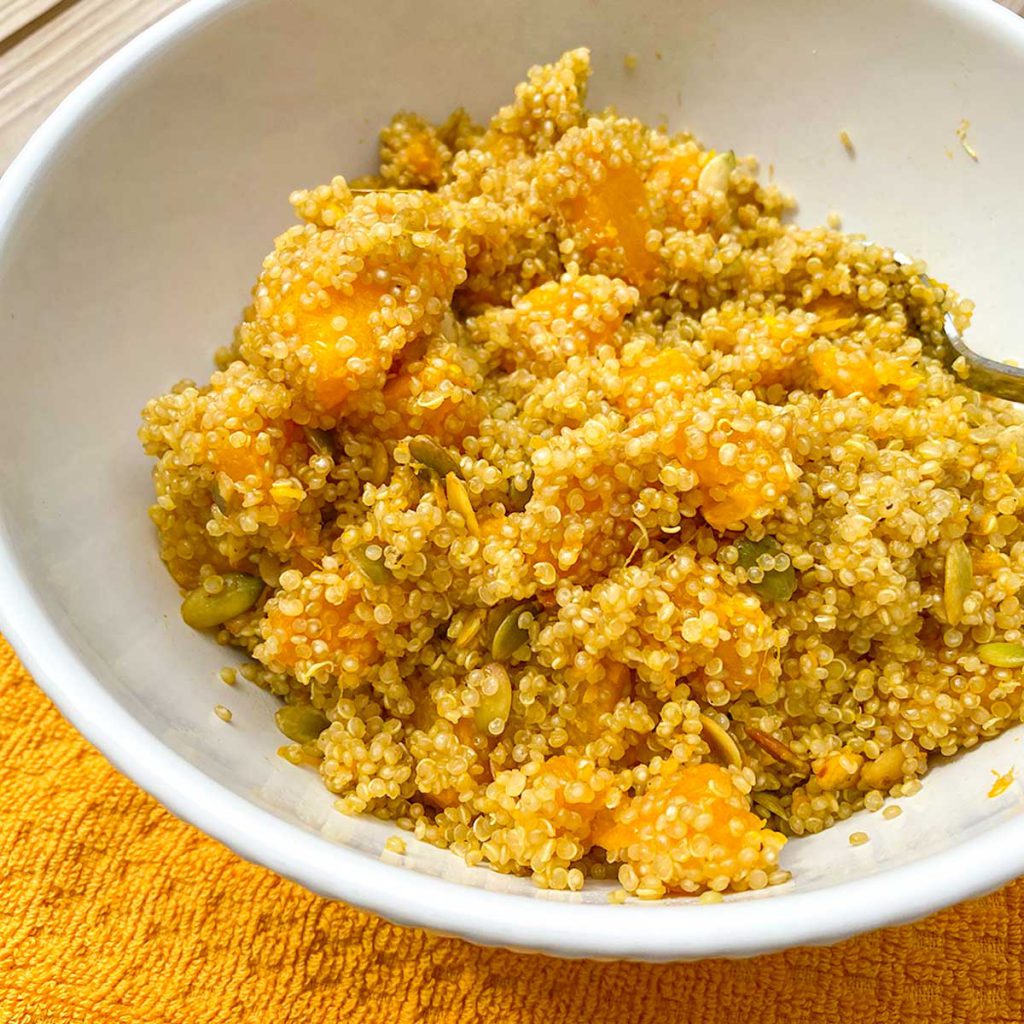 It is very hearty and delicious! The cooked pumpkin is soft, with a garlicky flavor; while the quinoa provides so much goodness in this meal, and you won't feel hungry for a while!
---
---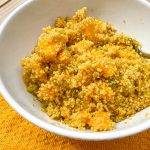 Print Recipe
Pumpkin Quinoa Bowl
A delicious pumpkin dish that perfectly fits for the fall 🍁
Ingredients
1/2

pumpkin

1

cup

quinoa

1

tbsp

garlic

2

tbsp

pumpkin seeds

optional, just for more crunchy texture

1

tbsp

oil

1

tbsp

butter

If you want a lower calorie version, feel free to skip the butter, but I prefer to have it since it will make the dish taste better!

salt

black pepper
Instructions
Cut open a pumpkin, and remove the seeds inside. We will only use half of the pumpkin in this recipe, you can save the rest for other meals. Chop it into several smaller sections, use the knife to remove the skin, and then chop it into small pieces.

Preheat a pan at medium heat. Add 1 tbsp of non-flavored oil into the pan, together with 1 tbsp of butter.

Add 3 cloves of garlic into the pan, saute them and once you can smell the aroma, add the pumpkin pieces in. Stir well. Cover the lid and let it cook for another 5 minutes.

5 minutes later, add a pinch of salt to the taste. You can remove the whole garlic pieces out of the pan, so that you won't bite through it later on.

Add 2 cups of hot water, with 1 cup of quinoa. Cover the lid, turn the heat to low, and let it simmer for 12 minutes.

12 minutes later, stir and fluffy the quinoa. I also like to add some pumpkin seeds to it since they add some nice texture to the meal.

Crack some black pepper, you can taste it to see if it needs extra salt. Mix well and enjoy!
Nutrition
---
———
Bear Cusine is a participant in the Amazon Services LLC Associates Program. These links are affiliated. If you purchase through them, I will make a couple of cents to a couple of dollars. But that won't affect your prices at all.