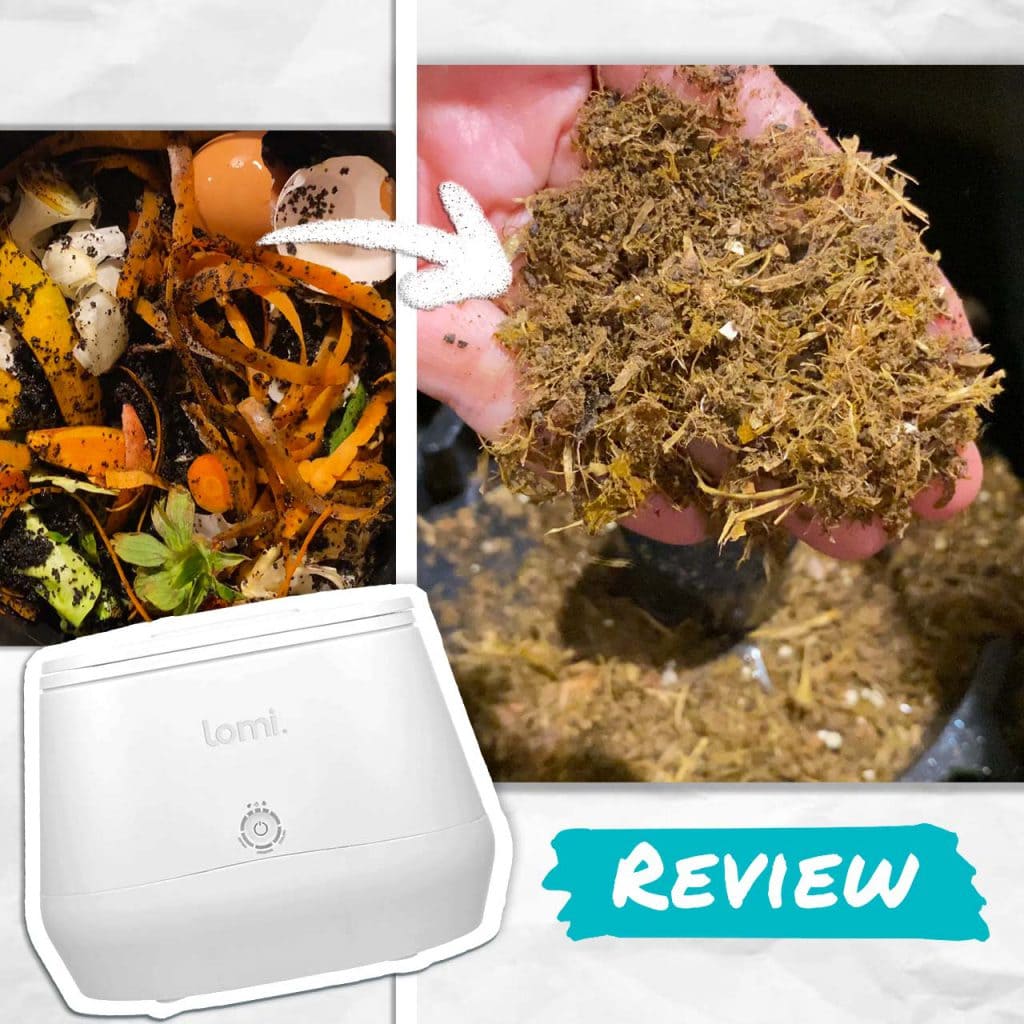 Today we would like to share our honest review of the Lomi composter with you. Lomi is an electronic composter that can turn your food waste into dirt.
We ordered it from Indiegogo on the first day when they launched in April 2021… After waiting for nearly a year, we finally received it in March.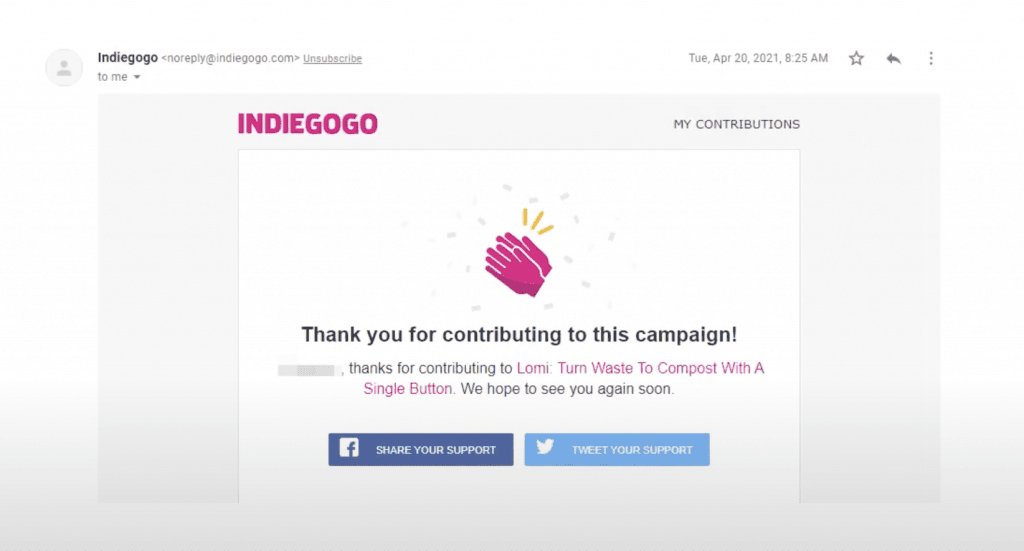 We've been using it a couple of times… For a quick conclusion, we feel a bit disappointed, but we are still using it, with some modifications.
In this blog, we will share with you where we like it, and where we feel disappointed. If you want to see this test result in a video version, don't forget to check out our YouTube channel.
---
---
---
Lomi composter results in 3 different modes
The Lomi composter comes with 3 modes. We've tested all of them.
Click here to check out these results on our Youtube channel.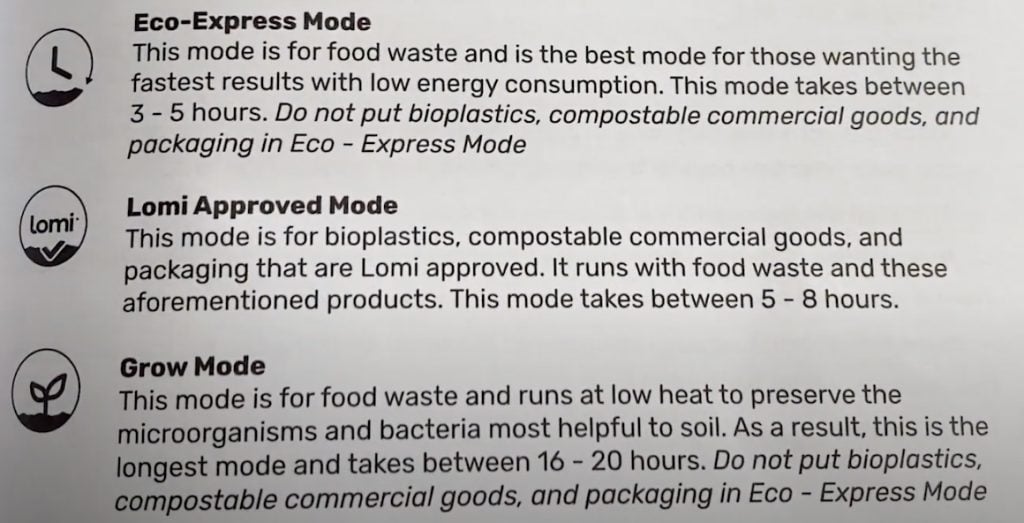 Lomi does a great job to decrease the food waste size and largely reduce the odor.
We added a full bucket of the food scraps and after the cycle finished, it turned out to be very impressive when we open the lid. Everything is so dry and ground up. This dirt even smells pretty good, my dog loves it.
We decided that we will only use the Grow Mode, as we want to keep the maximum amount of nutrients for the soil.
However, the full cycle of Grow Mode takes 16 to 20 hours, which means a lot of electric consumption. More importantly, we found out that you'd better not use this "dirt" from lomi directly on your plant.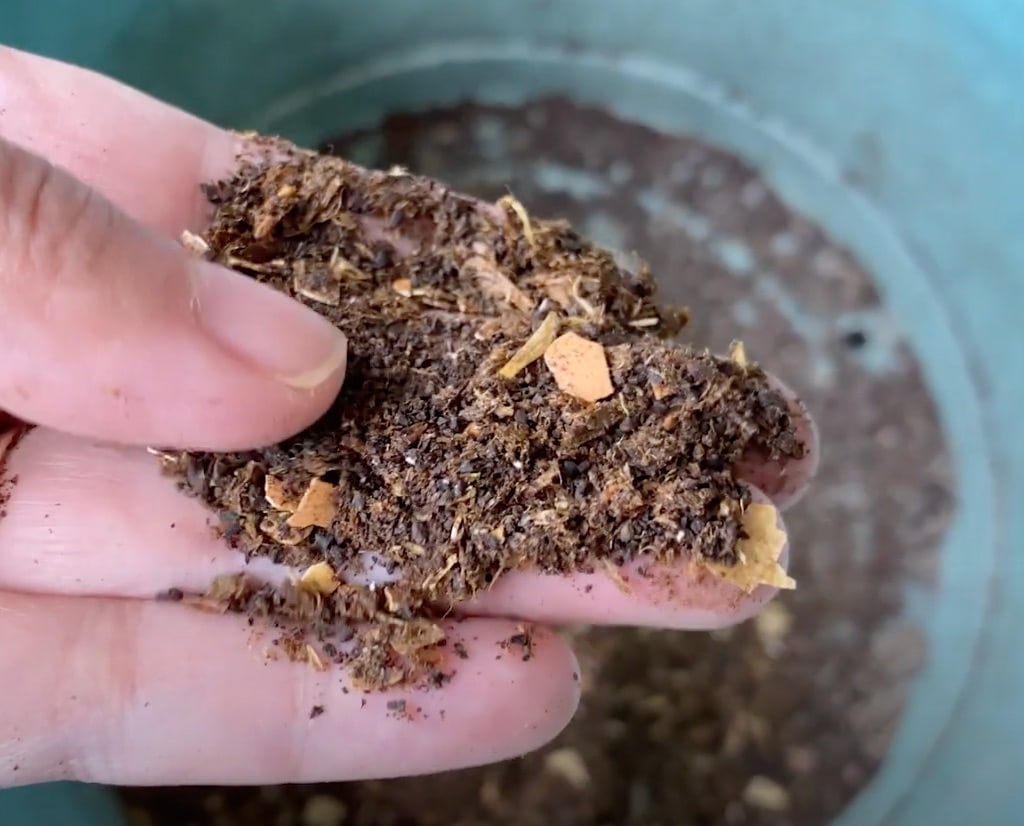 Why not use Lomi's compost directly?
As you can see from the picture above, there are still a few things that haven't fully broken down yet, like some mango skin and some eggshells.
We left this dirt inside a pot and kept it on the porch outside for about 2 weeks. It rained a couple of times and now it has become like a hard block.
The worst thing is, there are so many insects living beneath this dirt block… Because scraps were not fully broken down so it is not strange that insects like this kind of environment.
---
---
How do we use Lomi now?
Instead, we accidentally found a better way to use this device. Better means: not harmful for the plant, and way less electricity consumption.
There was one time I forgot to add the LomiPod tablet after I let it run for 3 hours. So I stopped the cycle and opened the lid. In such a short time, the food scraps size has already decreased so much.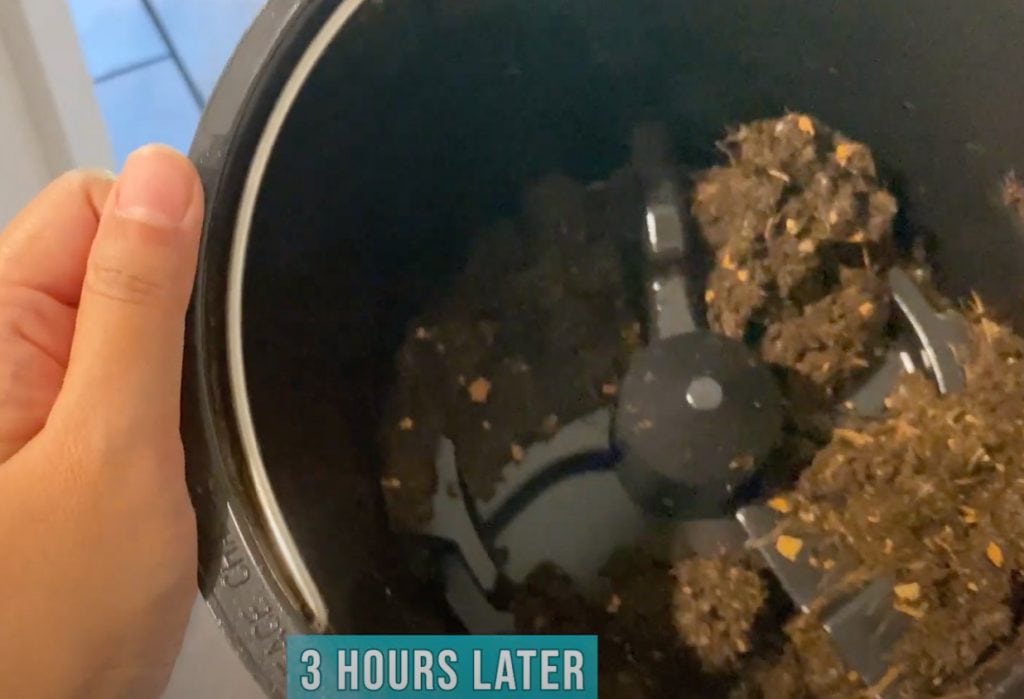 If you mix these things in the soil and cover them with more soil on the top, they actually will disappear in a few weeks. Because they were buried, it will help to prevent the pest issue.
If you dig it up, after a week, these blocks start to get some white mold, which is totally normal and it is significant that things are starting to break up.
I usually place them in an unused planter and mix this soil weekly. I use a shovel to break down any large pieces I saw. In about 2 or 3 weeks, when I can't see any obvious lumps, I will add this compost to my plants.
In this way, it is so much better compared to what I used to compost before.
Before I just buried the food scraps in the soil and covered them with more soil. And they will be ready to use in a month on a hot summer day. Now with the 3 hours run in Lomi, it will break down even quicker and it won't take too much space, which is a plus for my small garden.
Just be careful it might get hot when you open the lid. I usually stop the machine after 2 to 4 hours, depending on when I remember it.
Lomi's compost test result
We've also done a test between the original garden soil and the lomi soil, with some soaked peas. This test was inspired by the Garden Fundamentals youtube channel. Our test is slightly different since we buried the dirt for a while to let the things break down instead of using it directly.
Two weeks later, here comes the result!
Both of the pea sprouts turned out great. The right one is grown in regular garden soil, and the left one is grown in the lomi compost & soil mix. As you can tell from the picture, the Lomi one is slightly better, with bigger leaves.
---
---
Conclusion
To conclude, here is our way to get the best out of Lomi.
Save the food scraps until the bucket is full, and keep them in the fridge so they won't have much odor.
Run with grow mode for a couple of hours
Stop the cycle, open the lid and wait until it is not too hot to handle
Add the dirt to the soil, mix, and cover it with another layer of the soil. Or you can add these to the green bin if you have one.
Stir the soil occasionally and in a few weeks, the compost is ready for use.
Overall, Lomi is not very convenient as its advertising, I would not recommend using its outcome directly on the outdoor plant. However, it does a great job to decrease the food waste size and largely reduce the odor, which saved quite a lot of space and time for the scraps to break down. In the end, we will still need the mother of nature to do the rest of the work.
Voila, that's our experience of using the Lomi composter.
Thank you for reading till the end. So far that's the best way we could think of, at least it uses less power and seems to be helpful for our plants. What do you think? If you have any better ideas, please leave us a comment below.
---
---