Today we would like to share with you how to make matcha tiramisu from scratch.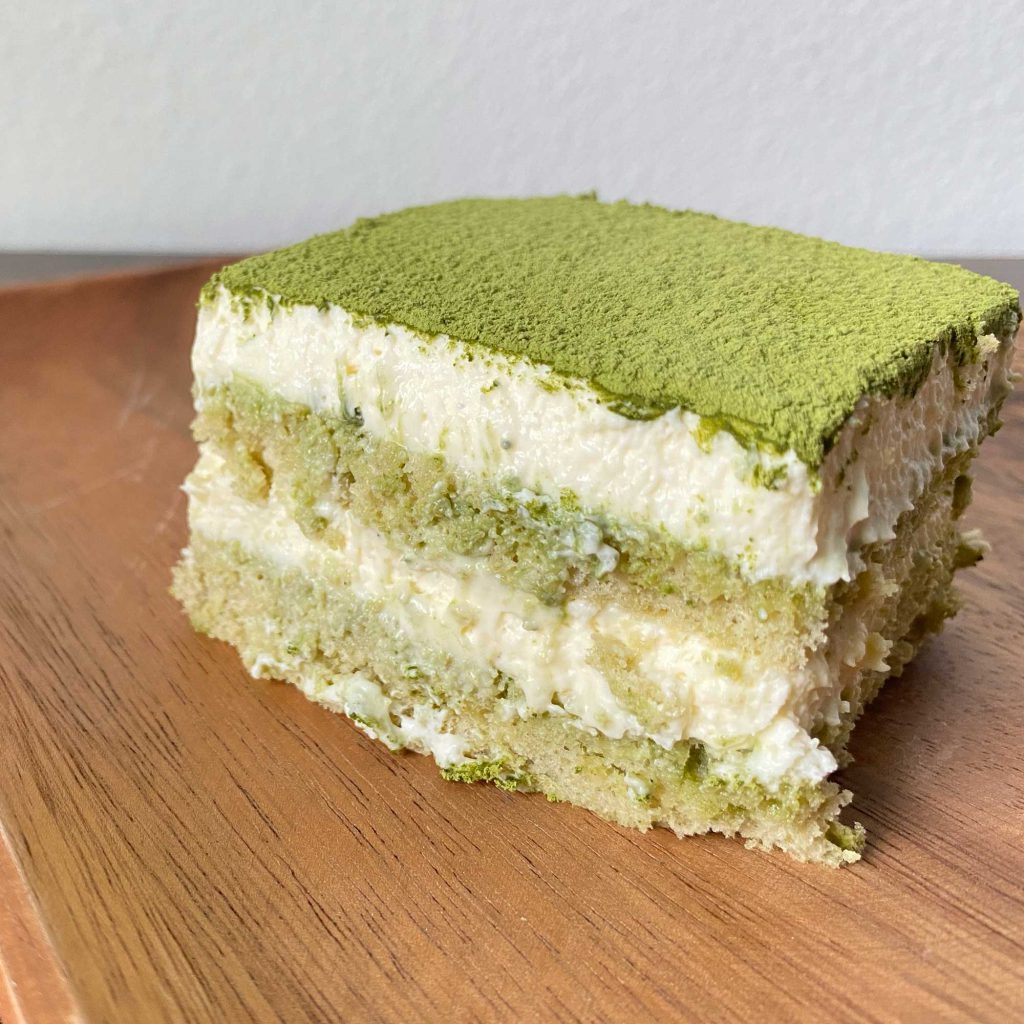 We will start by
making mascarpone cheese on the previous day;
then bake the matcha lady "finger";
and lastly making the tiramisu filling.
If you are using store-bought lady finger and mascarpone cheese, you can skip the video to here for the filling part. It will literally take less than 20 minutes to make it.
But if you are like us, all of the ladyfingers are out of stock at your grocery store and want to save some money on the mascarpone cheese, then we have this everything made from scratch version for you.
---
---
Homemade mascarpone cheese
The ingredient for mascarpone cheese is incredibly simple: you just need 1 pint of heavy cream and 1 tbsp of lemon juice.
This recipe (12 servings) will require 2 cups of mascarpone cheese. It will need to use 2 pints of heavy cream with 2 tbsp of lemon juice (which is double the amount that shows in the video)
Moreover, the homemade mascarpone only costs half of the price compared to the store-bought mascarpone cheese.
Matcha Lady Fingers
Since this lady finger is baked specially for the tiramisu, we just bake a whole large piece, instead of using a piping bag to make the finger shape as it should be.
it doesn't look like a finger at all, but I will still call it as lady finger in the entire video.
But it tasted so good even just by itself!
Tiramisu Filling
We tested several combinations and finally got this winner recipe!
Overall, there is a lot of whisking while making the filling cream, but it will guarantee the cream can stay in its steady form.
We also need to heat up the yolk to 160ºF over a hot water bath.
Why 160??
That's the temperature that the FDA recommended. So we basically just cook this egg to make it will be safe to eat!
For the leftover, you can freeze it and thaw it for a couple of hours before serving!
---
---
---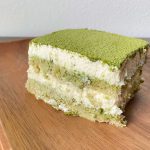 Print Recipe
Matcha Tiramisu
Let's make matcha tiramisu from scratch. Includes homemade mascarpone cheese & matcha lady fingers!
Ingredients
Mascarpone Cheese (2 cup)
2

pint

heavy cream

2

tbsp

lemon juice
Matcha Lady Fingers (full sheet)
4

eggs

separated, plus 2 extra egg whites (optional)

½

cup

sugar

divided (¼ cup & ¼ cup)

1

cup

all-purpose flour

1

tsp

matcha powder

a

pinch

salt
Tiramisu Filling (casserole dish)
4

yolks

⅔

cup

sugar

divided (⅓ cup & ⅓ cup)

2

cup

mascarpone cheese

1 & ⅓

cup

heavy cream

½

tsp

vanilla paste

1

tsp

dark rum

1

tbsp

milk
Liquid for soaking the lady finger
1

tsp

matcha powder

1

cup

cold water

a small amount of hot water to dissolve the matcha powder
Instructions
Mascarpone cheese (on the previous day)
Heat up 2 cups of heavy cream over medium heat, until simmer(185ºF)

turn the heat to low, and add 1 tbsp of lemon juice. We are going to thicken this cream for 5 minutes. Make sure to keep stirring during this time, so the bottom part of the cream won't burn.

5 minutes later, set it aside and let this cream cool down. Wait for at least 30 minutes.

Prepare a bowl and a strainer, and lay a cheese cloth on the top. Once the cream is cool, pour it into the strainer. Cover with a plastic film and keep it in the fridge overnight.

On the second day, remove the cheese from the strainer and the cheesecloth, and it will be ready for use.
Matcha lady fingers
Preheat the oven to 375ºF. Separate the yolk and the white of 4 eggs. (we also added 2 extra egg whites here. For these 2 extra yolks, they can be used for the tiramisu cream later)

Whip the egg white first, in the meantime, keep adding ¼ cup of sugar gradually, until it reaches a stiff peak.

Whip the yolk with ¼ cup of sugar, until the mixture becomes pale. Sift 1 cup of all-purpose flour, 1 tsp of matcha powder and a pinch of salt in. Mix well and add about half of the egg white in, gently mix it, and then pour it back into the rest of the white. Use the folding motion to incorporate everything until you can't see any white parts.

Transfer the batter to a baking sheet, and spread evenly. Dust with some confectioner's sugar on the top. Bake for 15 minutes.

Let it cool down completely in a rack. Then take the container you are going to use, to cut out the shape that will fit into it.
Tiramisu Filling
In a bowl, add 4 yolks, ⅓ cup of sugar, and 1 tbsp of milk. Whisk well. (We are not going to use the egg whites here. But we will show you our favorite ways to use these leftover egg whites in the future. )

Heat up some water and bring it to simmer. Heat the yolk mixture over the hot water bath, until the temperature reaches over 160ºF. Keep whisking so that the bottom won't burn.

Remove the yolks from the stove. Then use the mixer to whisk the egg until it becomes 3 times its original volume, and the color becomes pale.

Next, for the mascarpone cheese. In a bowl, add 2 cups of mascarpone cheese and ⅓ cup of heavy cream. Whisk well together, Until you can see this obvious trail when the beater passes by.

(We added the cream here so it will be more liquidy to whip the cheese)

Lastly, whisk 1 cup of heavy cream, till a very soft peak. (We don't need a stiff peak here because we are going to mix this with the mascarpone and the yolk. So soft peak is enough and we won't over-whip the cream at the end. )

Combine the yolk, mascarpone, and cream together, also add ⅓ cup of sugar, ½ tsp of vanilla paste or vanilla extract, and 1 tsp of alcohol* (see notes). Whisk everything well, and then we will get this thick cream.

Now we are going to prepare some liquid to soak the lady finger. In a bowl, add 1 tsp of matcha powder, and a very small amount of hot water. Whisk well until all of the powder dissolves. Then slowly add 1 cup of water and mix everything well. You can transfer it into a shallow dish and soak the lady finger into it.

Place the soaked lady finger at the bottom of the container. Add half of the mascarpone cream, spread it evenly. And lay another piece of lady finger, cover with more cream.

You can use a metal spatula to make the surface flat, just wipe it clean after each time of use.

Cover with a plastic film and leave it in the fridge for at least 3 hours. Before serving, sprinkle a thin layer of matcha powder on the top. Enjoy!

(Try not to add too much matcha powder in this step, or it can become very bitter! A thin layer will be enough)
Notes
Here are the liquor options that you can use here: marsala, dark rum, grand maniere, amaretto…
We use kahlua like normal tiramisu. For this amount, it doesn't taste that alcohol, but it brings so much wonderful flavor to the cream.
Nutrition